Season Statistics
PPG


RPG


APG
5.2
FG%

Player Profile
Alex Bunton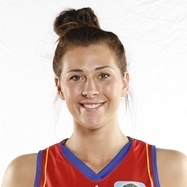 DOB: 13.10.93
Height: 196cm
Junior Club: Tuggeranong Vikings (ACT)
WNBL Clubs: AIS 2009 – 2012; Canberra Capitals 2012 – 2014; Adelaide Lightning 2014 - Current.
WNBL Championships: Nil.
Bio: Another home-grown product at the Capitals, Bunton graduated from three seasons at the AIS to the Canberra roster last season, playing a career-high 18 games in her first campaign.
A talented ACT junior, the 196cm Bunton stepped up to enjoy her breakout season in Canberra, playing a major role as the starting centre, averaging career-highs across the board.
The signing of Lauren Jackson prompted Bunton to find a new opportunity, joining the Adelaide Lightning.
Career Highlights: FIBA U19 World Championships: 2011 (Semi Final), FIBA U17 World Championships: 2010.
Season Statistics

2PT
3PT
FT
Rebounds
M
MIN
2PM-A
1st Half H.S
3PM-A
3PT
%
FTM-A
FT %
TOT
AST
PTS
Season
10
24/10/2010
- - -
0.0
5 - -
2
- - Bendigo
5.2
Career
97
01/11/2014
- - -
0.0
171 - 6
98
- - -
5.3
Previous Seasons

Competition
Season
M
MIN
2PM-A
1st Half H.S
3PM-A
3PT
%
FTM-A
FT %
PF
Total Pts
TOT
AST
PTS
2015/16
2015
10
16/10/2015
25 - 64
39.1
21 - -
13
- - SEQ Stars
61.9
4.6
2014/15
2014
18
01/11/2014
52 - 88
59.1
40 - 5
24
- - Sydney Uni
60.0
5.4
2013/14
2013
21
22/11/2013
73 - 143
51.0
58 - 1
33
- - Townsville
56.9
8.3
2012/13
18
01/12/2012
25 - 55
45.5
27 - -
15
- - Dandenong
55.6
3.3
2011/12
Summer
14
07/10/2011
24 - 69
34.8
15 - -
8
- - Sydney
53.3
4.3
2010/11
Summer
10
24/10/2010
- - -
0.0
5 - -
2
- - Bendigo
40.0
5.2
2009/10
Summer
6
23/10/2009
- - -
0.0
5 - -
3
- - Adelaide
60.0
5.0