Season Statistics
PPG


RPG


APG
2.7
FG%

Player Profile
Hannah Bowley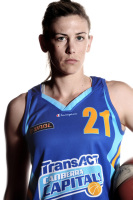 PERSONAL: DOB 29/01/1984; HEIGHT: 185cm
POSITION: Forward

JUNIOR ASSOCIATION: Sturt Sabres (SA)

FIRST PLAYED WNBL: 2005/06 Perth Lynx

WNBL CLUBS: Perth Lynx 2005/06, Canberra Capitals 2008/09-2011/12, Adelaide Lightning 2012/13
WNBL CHAMPIONSHIPS: (2) 2008/10, 2009/10, Canberra Capitals
WNBL CAREER NOTES: Hannah played in 19 regular season games for the Capitals in 2010/11 along with three finals; She averaged 3 points and 2.6 rebounds per regular season game and recorded her season-high of 13 points against the West Coast Waves on 21 January 2011. In2009/10 Hannah was a WNBL Champion with Canberra Capitals; She averaged 1.8 points, 1.7 rebounds, and 0.3 assist per game; Hannah in her first year with the Canberra Capitals won the championship in 2008/2009 when she played 12 games to average 1.9 points and 1 rebound per game... She made her WNBL debut in the 2005/2006 season with Perth, averaging 6.5 points and 2.5 rebounds per game.
GENERAL BASKETBALL CAREER NOTES: In 2011 Hannah played in the Queensland Basketball League for the Gladstone Port City Power where the team won a third straight QBL title; She has won three ABA Central Championships in 2002, 2006 and 2008.
PERSONAL INFORMATION: Hannah plays both ABA level Basketball and Australian Rules. She has a sister who also played in the WNBL in 2008/09 for the Adelaide Lightning.
Season Statistics

2PT
3PT
FT
Rebounds
M
MIN
2PM-A
1st Half H.S
3PM-A
3PT
%
FTM-A
FT %
TOT
AST
PTS
Season
22
21/01/2011
- - -
0.0
7 - 7
5
- - West Coast
2.7
Career
104
14/01/2006
- - -
0.0
31 - 37
20
- - -
1.9
Previous Seasons

Competition
Season
M
MIN
2PM-A
1st Half H.S
3PM-A
3PT
%
FTM-A
FT %
PF
Total Pts
TOT
AST
PTS
2005/06
Summer
11
14/01/2006
28 - 52
53.8
3 - 12
1
- - Bulleen
33.3
2.5
2011/12
Summer
15
15/01/2012
13 - 27
48.1
5 - 4
2
- - Bendigo
40.0
1.0
2010/11
Summer
22
21/01/2011
- - -
0.0
7 - 7
5
- - West Coast
71.4
2.7
2009/10
Summer
21
18/10/2009
- - -
0.0
8 - 4
6
- - AIS
75.0
1.7
2008/09
Summer
12
13/02/2009
- - -
0.0
- - 2
- - West Coast
0.0
1.1
2012/13
23
21/10/2012
20 - 48
41.7
8 - 8
6
- - Townsville
75.0
2.0