Season Statistics
PPG


RPG


APG
4.3
FG%

Player Profile
Melissa Marsh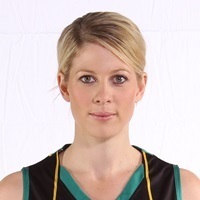 DOB: 28.05.85
Height: 177cm
Junior Club: Willetton Tigers (WA)
WNBL Clubs: Perth Lynx 2001 – 2005; Adelaide 2005/06; West Coast Waves 2006 – Current.
WNBL Championships: Nil.
Bio: A staple in Perth for all bar one season of her WNBL career, Marsh has become the face of the Waves, racking up more than 200 games with the team since her debut in 2001.
The daughter of former Australian cricketer Geoff Marsh and sister of current Australian players Shaun and Mitchell Marsh, Melissa has become a regular star performer on and off the court in Perth.
Last season saw the guard become the Waves' games record holder and move within nine games of joining the WNBL 250 game club at just 28 years of age. Marsh will benefit from having the likes of a fully fit Deanna Smith, Antonia Edmondson and the emerging Natalie Burton as part of the improving Waves team.
Finals remained elusive for Marsh in a West Coast uniform and she will be eager to guide the team to the WNBL post-season around this exciting core of players.
Career Highlights: Most games played for the West Coast Waves: 220, All-time West Coast Waves leader in points: 2094.
Season Statistics

2PT
3PT
FT
Rebounds
M
MIN
2PM-A
1st Half H.S
3PM-A
3PT
%
FTM-A
FT %
TOT
AST
PTS
Season
24
27/10/2012
67 - 184
36.4
35 - 82
26
- - Adelaide
4.3
Career
266
12/11/2010
- - -
0.0
380 - 976
277
- - -
3.2
Previous Seasons

Competition
Season
M
MIN
2PM-A
1st Half H.S
3PM-A
3PT
%
FTM-A
FT %
PF
Total Pts
TOT
AST
PTS
2013/14
2013
24
08/02/2014
62 - 166
37.3
31 - 79
26
- - Adelaide
83.9
3.3
2012/13
24
27/10/2012
67 - 184
36.4
35 - 82
26
- - Adelaide
74.3
4.3
2011/12
Summer
22
23/10/2011
70 - 191
36.6
35 - 100
24
- - Bulleen
68.6
2.9
2010/11
Summer
21
12/11/2010
- - -
0.0
29 - 130
19
- - Sydney
65.5
3.4
2009/10
Summer
21
20/11/2009
- - -
0.0
24 - 121
17
- - Bulleen
70.8
4.0
2008/09
Summer
20
19/10/2008
- - -
0.0
47 - 85
34
- - Adelaide
72.3
4.2
2007/08
Summer
22
17/10/2007
- - -
0.0
34 - 93
26
- - Bendigo
76.5
3.2
2006/07
Summer
21
15/12/2006
53 - 103
51.5
24 - 43
20
- - Townsville
83.3
2.9
2004/05
Summer
21
11/12/2004
46 - 136
33.8
37 - 77
25
- - Townsville
67.6
3.4
2003/04
Summer
21
13/12/2003
33 - 105
31.4
22 - 56
18
- - Canberra
81.8
2.7
2002/03
Summer
19
09/11/2002
36 - 101
35.6
34 - 67
24
- - Dandenong
70.6
3.3
2001/02
Summer
6
16/11/2001
4 - 9
44.4
4 - 3
2
- - Townsville
50.0
0.8
2000/01
Summer
1
- - 3
0.0
- - 3
- - -
0.0
2.0
2005/06
Summer
23
08/10/2005
34 - 83
41.0
24 - 37
16
- - Bulleen
66.7
1.9