Season Statistics
PPG


RPG


APG


FG%

Player Profile
Carli Boyanich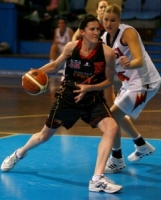 PERSONAL:
DOB 23/10/1983; Height: 188cm
POSITION: Forward/Centre
JUNIOR ASSOCIATION: Stirling Senators (WA)
FIRST PLAYED WNBL: 2002/03
WNBL CLUBS: Perth 2002/03-05, 2007/08 - Current
WNBL CAREER NOTES: In the 2009/10 season she averaged 3 points and 2.2 assists per game ...In the 2008/09 season Carli played 10 games for Perth and averaged 6.1 points and 5.1 rebounds. Carli averaged 4.3 points and 4 rebounds per game in 2007/08. Prior to the 2007/08 season, Carli had played 32 games for Perth, scoring 105 points and tallying 86 rebounds and 20 blocked shots.
GENERAL BASKETBALL CAREER NOTES: Carli has played overseas in Spain, won the 2007 WA SBL Grand Final with the Perry Lakes Hawks and was named Grand Final MVP. She also won SBL Most Improved Award in 2003.
PERSONAL INFORMATION: Her favourite basketball players are Penny Taylor and Ray Allen. She enjoys eating lasagne, used to be a professional high jumper and has had 3 major knee reconstructions.
Season Statistics
Season
Career
Previous Seasons

Competition
Season
M
MIN
2PM-A
1st Half H.S
3PM-A
3PT
%
FTM-A
FT %
PF
Total Pts
TOT
AST
PTS
2009/10
Summer
14
06/12/2009
- - -
0.0
18 - 7
13
- - Bulleen
72.2
2.2
2008/09
Summer
10
24/10/2008
- - -
0.0
27 - 7
17
- - AIS
63.0
5.1
2007/08
Summer
21
26/01/2008
- - -
0.0
17 - 25
4
- - AIS
23.5
4.0
2004/05
Summer
15
03/10/2004
21 - 62
33.9
10 - 1
3
- - Adelaide
30.0
2.9
2003/04
Summer
17
08/11/2003
28 - 72
38.9
8 - -
4
- - Townsville
50.0
2.5
2002/03
Summer
2
- - -
0.0
- - -
- - -
0.0
0.0