Season Statistics
PPG


RPG


APG
5.5
FG%

Player Profile
Jenna O'Hea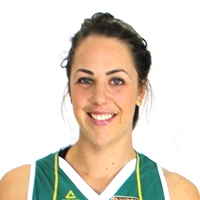 DOB: 06.06.87
Height: 185cm
Junior Club: Nunawading Spectres (VIC)
WNBL Clubs: AIS 2003 – 2005; Dandenong Rangers 2005 – 2007; Bendigo Spirit 2007/08; Bulleen Boomers 2009 – 2011; Dandenong Rangers 2011 – Current.
WNBL Championships: (2) Bulleen Boomers 2011; Dandenong Rangers 2012.
Bio: O'Hea has established herself as one of the most complete players in women's basketball, with her ability to score, facilitate and defend making her a key cog in the Jayco Opals machine.
Quickly becoming a name of note, O'Hea won the 2004 Betty Watson WNBL Rookie of the Year award and not for injury would have been a key player in the 2005 FIBA Under 19 World Championships.
Despite this absence, O'Hea was soon again in national team colours for the 2007 FIBA Under 21 World Championships on the back of an outstanding season with the Bendigo Spirit.
O'Hea cemented her spot in the Opals squad for the 2010 FIBA World Championships after her first WNBL All-Star Five honour with the Bulleen Boomers. This saw demand for O'Hea rise with the Los Angeles Sparks giving her a WNBA contract for the 2011 season.
A move to the Dandenong Rangers followed, winning the 2012 WNBL Championship before helping the Opals win the bronze medal at the 2012 London Olympic Games.
A third WNBL All-Star Five honour was boosted by a new contract with the Sparks ahead of the 2013 WNBA season.
Career Highlights: Olympic Games: 2012 (Bronze), FIBA World Championships: 2010, WNBL All-Star Five: 2010, 2011, 2013, FIBA U21 World Championships: 2007 (Silver).
Season Statistics

2PT
3PT
FT
Rebounds
M
MIN
2PM-A
1st Half H.S
3PM-A
3PT
%
FTM-A
FT %
TOT
AST
PTS
Season
24
04/03/2012
104 - 231
45.0
103 - 90
87
- - Adelaide
5.5
Career
212
23/01/2010
- - -
0.0
741 - 691
600
- - -
5.0
Previous Seasons

Competition
Season
M
MIN
2PM-A
1st Half H.S
3PM-A
3PT
%
FTM-A
FT %
PF
Total Pts
TOT
AST
PTS
2013/14
2013
24
07/02/2014
124 - 255
48.6
115 - 129
89
- - Melbourne
77.4
5.6
2012/13
24
15/12/2012
110 - 245
44.9
96 - 64
83
- - Sydney
86.5
6.4
2011/12
Summer
24
04/03/2012
104 - 231
45.0
103 - 90
87
- - Adelaide
84.5
5.5
2006/07
Summer
20
01/11/2006
107 - 226
47.3
113 - 66
95
- - Bulleen
84.1
5.7
2005/06
Summer
22
08/01/2006
23 - 51
45.1
22 - 40
16
- - AIS
72.7
2.6
2010/11
Summer
15
08/01/2011
- - -
0.0
43 - 40
35
- - Adelaide
81.4
4.0
2009/10
Summer
24
23/01/2010
- - -
0.0
80 - 91
65
- - Townsville
81.3
6.0
2007/08
Summer
20
09/11/2007
- - -
0.0
56 - 92
45
- - Christchurch
80.4
4.8
2004/05
Summer
20
23/10/2004
66 - 132
50.0
58 - 49
49
- - Canberra
84.5
4.3
2003/04
Summer
19
03/01/2004
37 - 76
48.7
55 - 30
36
- - Canberra
65.5
4.2