Season Statistics
PPG


RPG


APG
0.6
FG%

Player Profile
Rebecca Mercer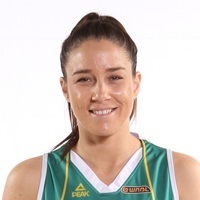 DOB: 20.08.86
Height: 175cm

Junior Club: Kalamunda (WA)
WNBL Clubs: West Coast Waves (formerly Perth Lynx) 2003/04, 2008 – 2011; Townsville Fire 2011/12; Dandenong Rangers 2012 – Current.
WNBL Championships: Nil.
Bio: Back for a second season with the Rangers, Mercer first got her break in the WNBL as a 17-year-old with the Perth Lynx before making the jump to the USA and college basketball at Lake Region State College before joining Montana State University.
At Lake Region, Mercer won the 2006 NJCAA Championship to go with her 2005 Conference MVP and 2006 Conference first-team honours. The move to Montana State was just as successful, winning 2007 New Comer of the Year award and earning All-Big Sky Conference First Team honours in 2008.
Two seasons with the Waves led to a one-season stay with the Fire before settling in Dandenong.
Career Highlights: FIBA Oceania Youth Championship: 2004, All-Big Sky Conference First Team: 2008, BSC New Comer of the Year: 2007, NJCAA Champion: 2006, NJCAA Conference MVP: 2005, NJCAA Conference First Team: 2005, 2006.
Season Statistics

2PT
3PT
FT
Rebounds
M
MIN
2PM-A
1st Half H.S
3PM-A
3PT
%
FTM-A
FT %
TOT
AST
PTS
Season
10
14/10/2011
2 - 9
22.2
8 - 3
6
- - AIS
0.6
Career
90
01/11/2008
- - -
0.0
125 - 225
93
- - -
1.0
Previous Seasons

Competition
Season
M
MIN
2PM-A
1st Half H.S
3PM-A
3PT
%
FTM-A
FT %
PF
Total Pts
TOT
AST
PTS
2013/14
2013
4
26/10/2013
3 - 4
75.0
- - 3
- - West Coast
0.0
0.3
2010/11
Summer
19
14/11/2010
- - -
0.0
24 - 62
19
- - Bulleen
79.2
1.3
2009/10
Summer
22
17/10/2009
- - -
0.0
46 - 66
32
- - Adelaide
69.6
1.2
2008/09
Summer
22
01/11/2008
- - -
0.0
44 - 86
34
- - Dandenong
77.3
1.3
2003/04
Summer
1
24/01/2004
1 - 1
100.0
- - 1
- - Dandenong
0.0
1.0
2011/12
Summer
10
14/10/2011
2 - 9
22.2
8 - 3
6
- - AIS
75.0
0.6
2012/13
11
02/11/2012
1 - 3
33.3
3 - 4
2
- - Logan
66.7
0.0