Season Statistics
PPG


RPG


APG
4.3
FG%

Player Profile
Carly Wilson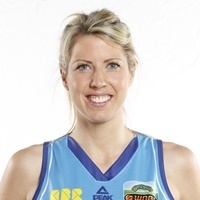 DOB: 08.07.82
Height: 180cm
Junior Club: Nunawading Spectres (VIC)
WNBL Clubs: Dandenong Rangers 1998/99; AIS 1999 – 2002; Dandenong Rangers 2002 – 2006; Perth Lynx 2006 – 2008; Canberra Capitals 2009 – Current.
WNBL Championships: (3) Dandenong Rangers 2004, 2005; Canberra Capitals 2010.
Bio: Emerging as a talented player at both ends of the floor, Wilson went from exciting young talent at the AIS to genuine star of the WNBL almost overnight, earning WNBL All-Star Five honours in her first season with the Dandenong Rangers.
Wilson would win two titles in her four season stay at Dandenong and at just 22 years of age was one of the premier players in the competition. A move across the country to Perth saw her add a second All-Star Five accolade before joining Carrie Graf at the Canberra Capitals.
This move garnered a third WNBL Championship and saw her role change from key scorer to defensive stopper and facilitator. Now settled in Canberra, Wilson is one of the key pieces in the rebuilding of the Caps.
Career Highlights: Commonwealth Games: 2006 (Gold), WNBL All-Star Five: 2003, 2007, FIBA Junior Women's World Championship: 2001 (Semi Final), FIBA Oceania Championships: 2005, 2007, 2009, 2011.
Season Statistics

2PT
3PT
FT
Rebounds
M
MIN
2PM-A
1st Half H.S
3PM-A
3PT
%
FTM-A
FT %
TOT
AST
PTS
Season
22
23/10/2011
68 - 167
40.7
50 - 77
47
- - Logan
4.3
Career
339
14/10/2006
- - -
0.0
564 - 989
442
- - -
4.0
Previous Seasons

Competition
Season
M
MIN
2PM-A
1st Half H.S
3PM-A
3PT
%
FTM-A
FT %
PF
Total Pts
TOT
AST
PTS
2015/16
2015
24
13/12/2015
23 - 63
36.5
10 - 66
10
- - Melbourne Boomers
100.0
2.6
2014/15
2014
22
20/12/2014
30 - 77
39.0
8 - 59
8
- - West Coast
100.0
2.6
2013/14
2013
23
20/12/2013
21 - 53
39.6
5 - 63
4
- - Logan
80.0
2.6
2007/08
Summer
13
02/12/2007
- - -
0.0
42 - 57
37
- - AIS
88.1
7.2
2006/07
Summer
21
14/10/2006
124 - 296
41.9
69 - 47
61
- - Townsville
88.4
6.5
2005/06
Summer
22
20/01/2006
113 - 226
50.0
68 - 69
48
- - Townsville
70.6
3.7
2004/05
Summer
23
04/12/2004
94 - 213
44.1
74 - 52
51
- - Sydney
68.9
4.4
2003/04
Summer
23
25/10/2003
92 - 199
46.2
35 - 85
29
- - AIS
82.9
3.8
2002/03
Summer
21
09/11/2002
123 - 267
46.1
75 - 63
51
- - West Coast
68.0
6.4
1998/99
4
- - 2
0.0
- - 1
- - -
0.0
0.0
2012/13
24
06/10/2012
42 - 107
39.3
6 - 75
5
- - Sydney
83.3
2.6
2011/12
Summer
22
23/10/2011
68 - 167
40.7
50 - 77
47
- - Logan
94.0
4.3
2010/11
Summer
25
15/10/2010
- - -
0.0
41 - 70
32
- - Sydney
78.0
4.5
2009/10
Summer
24
09/01/2010
- - -
0.0
14 - 68
11
- - AIS
78.6
3.3
2001/02
Summer
21
01/12/2001
68 - 150
45.3
47 - 62
34
- - Sydney
72.3
4.2
2000/01
Summer
21
14/12/2000
52 - 117
44.4
18 - 68
14
- - Sydney
77.8
3.8
1999/00
6
20/11/1999
10 - 17
58.8
2 - 7
- - Dandenong
0.0
2.0