Season Statistics
PPG


RPG


APG


FG%

Player Profile
Rohanee Cox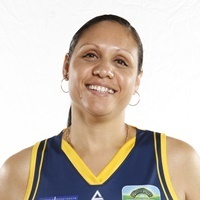 DOB: 23.04.80
Height: 182cm
Junior Club: Willetton Tigers (WA)
WNBL Clubs: AIS 1996 – 1998; Perth Lynx 1998 – 2000, 2002/03; Townsville Fire 2005 – 2009; West Coast
Waves 2011/12; Sydney Uni Flames 2012 – Current.
WNBL Championships: Nil.
Bio: One of the greats of the WNBL, Cox enters her 13th season at 33 years of age and still one of the best all-round players in the competition. Since debuting with the AIS as a 16-year-old in 1996, Cox has claimed a host of individual accolades and international medals.
After three seasons in Canberra she returned to Western Australia, joining hometown club the Perth Lynx for a two season stay from 1998 to 2000. Time away from basketball became a priority for Cox as she played just one season for the Lynx (2002/03) between 2000 and 2005.
A return to the court came in 2005 with the Townsville Fire, with Cox elevating her game to new heights –winning the WNBL MVP, back-to-back WNBL All-Star Five honours and taking the Fire to the finals.
This amazing period of success was highlighted by winning the silver medal with the Jayco Opals at the 2008 Beijing Olympic Games to go with her 2007 and 2009 Maher Medals for international player of the year.
Another sabbatical followed before returning to action in 2011/12 with the West Coast Waves, announcing her retirement at the end of the season, aged 32. A call from Karen Dalton convinced Cox she still had something to contribute and she returned to the court with the Sydney Uni Flames for the 2012/13 season.
Career Highlights: FIBA Oceania Championships: 2007, 2009, Olympic Games: 2008 (Silver), FIBA Junior World Championships: 1997 (Silver), WNBL MVP: 2009, WNBL All-Star Five: 2008, 2009, Maher Medal for International Player of the Year: 2007, 2009.
Season Statistics
Season
Career
Previous Seasons

Competition
Season
M
MIN
2PM-A
1st Half H.S
3PM-A
3PT
%
FTM-A
FT %
PF
Total Pts
TOT
AST
PTS
2015/16
2015
13
06/11/2015
2 - 9
22.2
4 - 5
2
- - UC Capitals
50.0
1.2
2014/15
2014
18
21/02/2015
45 - 97
46.4
50 - 42
39
- - Dandenong
78.0
5.7
2013/14
2013
23
01/11/2013
102 - 203
50.2
92 - 41
72
- - Logan
78.3
6.3
2011/12
Summer
22
09/12/2011
94 - 209
45.0
101 - 82
76
- - Logan
75.2
8.2
2002/03
Summer
16
10/01/2003
71 - 158
44.9
44 - 32
31
- - Canberra
70.5
8.1
2000/01
Summer
1
20/01/2001
5 - 11
45.5
5 - 1
2
- - Melbourne
40.0
7.0
1999/00
12
09/10/1999
46 - 101
45.5
56 - 26
37
- - Canberra
66.1
5.8
1998/99
24
06/02/1999
67 - 130
51.5
58 - 41
46
- - Adelaide
79.3
4.4
2009/10
Summer
14
23/01/2010
- - -
0.0
72 - 55
62
- - Bulleen
86.1
4.8
2008/09
Summer
24
18/10/2008
- - -
0.0
151 - 122
110
- - AIS
72.8
8.0
2007/08
Summer
24
17/11/2007
- - -
0.0
141 - 144
111
- - AIS
78.7
8.7
2006/07
Summer
20
06/01/2007
116 - 218
53.2
109 - 38
83
- - Bulleen
76.1
7.7
2005/06
Summer
21
07/01/2006
112 - 228
49.1
90 - 50
65
- - West Coast
72.2
9.0
2012/13
20
23/11/2012
87 - 166
52.4
88 - 30
59
- - Townsville
67.0
6.3
1998
14
22/02/1998
59 - 113
52.2
27 - 19
22
- - Canberra
81.5
4.4
1997
17
08/08/1997
61 - 116
52.6
50 - 23
34
- - Dandenong
68.0
4.4
1996
14
31/05/1996
23 - 50
46.0
16 - -
7
- - West Coast
43.8
3.4