Season Statistics
PPG


RPG


APG
1.7
FG%

Player Profile
Holly Smith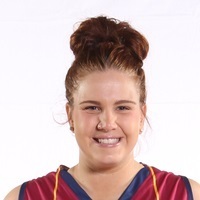 DOB: 07.11.87
Height: 186cm
Junior Club: Southern Districts (QLD)
WNBL Clubs: Townsville Fire 2007/08; Logan Thunder 2008 – Current.
WNBL Championships: Nil.
Bio: One of just a handful of foundation players still at the club, Smith has been a staple in the Thunder locker room for five seasons now and continues to provide impact minutes off the bench for coach Jason Chainey.
Smith made 13 appearances in the 2012/13 season, the lowest of her 126-game WNBL career. With the Thunder recruiting strongly during the off-season, Smith will face a battle to regain her minutes.
Career Highlights: Logan Thunder foundation player.
Season Statistics

2PT
3PT
FT
Rebounds
M
MIN
2PM-A
1st Half H.S
3PM-A
3PT
%
FTM-A
FT %
TOT
AST
PTS
Season
17
15/01/2012
22 - 37
59.5
20 - -
12
- - AIS
1.7
Career
133
18/01/2009
- - -
0.0
207 - 2
143
- - -
2.6
Previous Seasons

Competition
Season
M
MIN
2PM-A
1st Half H.S
3PM-A
3PT
%
FTM-A
FT %
PF
Total Pts
TOT
AST
PTS
2013/14
2013
23
15/12/2013
43 - 77
55.8
11 - -
9
- - Canberra
81.8
2.3
2007/08
Summer
17
16/11/2007
- - -
0.0
16 - -
12
- - Sydney
75.0
1.1
2012/13
13
20/01/2013
20 - 54
37.0
16 - -
10
- - West Coast
62.5
2.3
2011/12
Summer
17
15/01/2012
22 - 37
59.5
20 - -
12
- - AIS
60.0
1.7
2010/11
Summer
19
06/11/2010
- - -
0.0
28 - 1
16
- - Dandenong
57.1
2.4
2009/10
Summer
22
25/10/2009
- - -
0.0
62 - 1
45
- - West Coast
72.6
4.2
2008/09
Summer
22
18/01/2009
- - -
0.0
54 - -
39
- - Sydney
72.2
3.2