Season Statistics
PPG


RPG


APG
4.0
FG%

Player Profile
Kathleen Macleod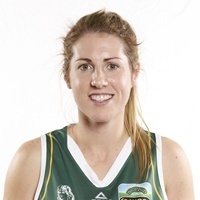 PERSONAL: DOB 23/10/1986; HEIGHT: 168cm
POSITION: Guard
JUNIOR ASSOCIATION: Nunawading (VIC)
FIRST PLAYED IN WNBL: 2003/04 AIS
WNBL CLUBS: AIS 2003/04 – 2004/05; Dandenong 2005/06 – 2006/07; Bendigo 2007/08; Dandenong 2010/11 - Current
WNBL CHAMPIONSHIPS: Dandenong Rangers 2011/12
WNBL CAREER NOTES: After a brilliant first season back in the WNBL, Kathleen took her game to the next level, leading the Rangers to a WNBL Championship, claiming an WNBL All Star 5 berth and WNBL Grand Final berth along the way. Kathleen made a triumphant return to the WNBL in season 2010/11 named as a member of the WNBL All-Star Five. Playing in 20 games for the Rangers including one final, she averaged 15.4 points, 5.5 assists and 4 rebounds per game. Kathleen finished the season top-ten in the league for points, assists and free throw percentage. She was also named WNBL Player of the Week for Round 13… Kathleen returns to the WNBL in 2010/11 after playing in Europe for the past two seasons. . Playing with Bendigo in 2007/08 Kathleen was a member of the WNBL All-Star Five. In 2006/07 she joined the Bendigo Spirit in their debut season and led the WNBL in three point percentage while averaging 13.5ppg in 11 games. Kathleen was a 2005/06 WNBL Runner Up with Dandenong after joining Dandenong in 2004/05 from the AIS. In 2003/04 Kathleen was the Betty Watson Rookie of the Year after scoring 125 points in her debut season in the WNBL with the AIS.
INTERNATIONAL CAREER NOTES: 2012 London Olympic Games (Bronze); 2007 FIBA U21 World Championships (Silver); 2005 FIBA Junior World Championships
GENERAL BASKETBALL NOTES: Played for Australian Opals at the 2012 London Olympic Games, winning Bronze. 2011 Kathleen was named in the Opals squad; 2010 Named in the Opals squad; In 2009/10 she played in France for club Reze Nantes and averaged 11.4 points, 6.4 assists, 2.6 rebounds and 1.6 steals per game…She was in the 2009 Opals squad, touring on the Opals China-Europe tour; In her 2008-2009 season with club MKB Soprong in Hungary, Kathleen averaged 11.1 points, 2 rebounds and 3.3 assists to lead her team to the Euroleague top four…She was a Hungarian League Champion with MKB Sopron; EuroLeague Semi Final with MKB Sopron... 2008 signed with MKB Sopron in Hungary; EuroLeague Semi Finals; Opals squad member... 2007 Opals squad member; Australian U21 Women's World Championships team member; … 2006 Opals squad member; Australian U21 women's team member (Sapphires)... 2005 member of the Australian U19 Women's World Championship team in Tunisia (Sixth)... 2004 second year AIS scholar; member of the Australian U19 women's team (Gems). 2003 receives scholarship to AIS; member of the Australian U19 women's team (Gems). Represented Victoria Metro U16 (2000/2001), U18 (2002/2003) and Victoria U20 (2004/2005) at National Junior Championships; attended the Australian Junior Camp (2001/2002/2003/2004).
PERSONAL INFORMATION: Kath has two brothers and two sisters and is originally from Melbourne. Her biggest weaknesses are shoes, shopping centre's and Doritos. She loves to shop and relax, especially somewhere there's a beach.
COACH'S COMMENTS: Kathleen is courageous, determined, professional and super talented. She is a born leader who leads by example day in, day out, she is the Rangers Captain and success follows her because she will only ever play and train at 100% and that's what separates her from the rest. Kathleen makes her teammates better players!
Season Statistics

2PT
3PT
FT
Rebounds
M
MIN
2PM-A
1st Half H.S
3PM-A
3PT
%
FTM-A
FT %
TOT
AST
PTS
Season
25
26/11/2011
135 - 258
52.3
98 - 78
79
- - Bendigo
4.0
Career
183
26/11/2011
- - -
0.0
649 - 577
540
- - -
3.4
Previous Seasons

Competition
Season
M
MIN
2PM-A
1st Half H.S
3PM-A
3PT
%
FTM-A
FT %
PF
Total Pts
TOT
AST
PTS
2014/15
2014
17
10/01/2015
68 - 149
45.6
39 - 43
29
- - Townsville
74.4
3.2
2012/13
26
10/11/2012
136 - 283
48.1
97 - 84
84
- - Bulleen
86.6
3.3
2011/12
Summer
25
26/11/2011
135 - 258
52.3
98 - 78
79
- - Bendigo
80.6
4.0
2010/11
Summer
20
23/02/2011
- - -
0.0
77 - 67
66
- - Logan
85.7
4.0
2006/07
Summer
12
05/01/2007
36 - 76
47.4
51 - 37
45
- - AIS
88.2
2.5
2005/06
Summer
23
03/12/2005
30 - 78
38.5
57 - 54
49
- - West Coast
86.0
2.1
2007/08
Summer
24
01/02/2008
- - -
0.0
126 - 87
105
- - Townsville
83.3
3.8
2004/05
Summer
20
28/01/2005
44 - 107
41.1
65 - 72
55
- - West Coast
84.6
3.5
2003/04
Summer
16
06/12/2003
26 - 62
41.9
39 - 55
28
- - Adelaide
71.8
3.5