Season Statistics
PPG


RPG


APG
2.5
FG%

Player Profile
Alison Downie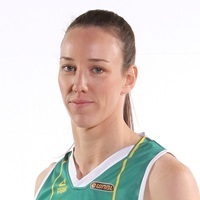 DOB: 17.07.84
Height: 181cm
Junior Club: Sandringham Sabres/Dandenong Rangers (VIC)
WNBL Clubs: Dandenong 2000 – Current.
WNBL Championships: (3) Dandenong Rangers 2004, 2005, 2012.
Bio: A staple at the Rangers since 2000, Downie has played all 279 of her WNBL games for Dandenong, winning three WNBL titles along the way. A truly selfless team player, the 29-year-old has become a vital piece of the puzzle under coach Mark Wright.
At 17 Downie was earmarked as a WNBL star, winning the 2002 Betty Watson WENBL Rookie of the Year, helping the team to win back-to-back WNBL titles in 2004 and 2005.
With significant roster change in the off-season players like Downie will be vital in providing the team with a stable veteran influence, with Downie's ability to hit the glass and guard bigger opponents vital.
Career Highlights: WNBL Rookie of the Year: 2002.
Season Statistics

2PT
3PT
FT
Rebounds
M
MIN
2PM-A
1st Half H.S
3PM-A
3PT
%
FTM-A
FT %
TOT
AST
PTS
Season
26
02/03/2014
18 - 63
28.6
7 - 6
6
- - Townsville
2.5
Career
326
16/01/2010
- - -
0.0
230 - 312
166
- - -
2.6
Previous Seasons

Competition
Season
M
MIN
2PM-A
1st Half H.S
3PM-A
3PT
%
FTM-A
FT %
PF
Total Pts
TOT
AST
PTS
2015/16
2015
21
16/10/2015
12 - 31
38.7
6 - 13
5
- - SEQ Stars
83.3
1.8
2013/14
2013
26
02/03/2014
18 - 63
28.6
7 - 6
6
- - Townsville
85.7
2.5
2012/13
26
27/10/2012
36 - 84
42.9
22 - 3
18
- - Bendigo
81.8
3.7
2011/12
Summer
25
12/11/2011
65 - 136
47.8
18 - 11
14
- - Adelaide
77.8
4.9
2010/11
Summer
23
13/02/2011
- - -
0.0
10 - 23
5
- - Townsville
50.0
2.0
2009/10
Summer
22
16/01/2010
- - -
0.0
16 - 66
13
- - Canberra
81.3
3.8
2008/09
Summer
22
31/01/2009
- - -
0.0
29 - 55
18
- - West Coast
62.1
4.2
2007/08
Summer
26
06/10/2007
- - -
0.0
12 - 34
9
- - Bendigo
75.0
2.0
2006/07
Summer
22
12/11/2006
36 - 98
36.7
27 - 29
19
- - Townsville
70.4
3.0
2005/06
Summer
22
22/10/2005
23 - 78
29.5
29 - 20
24
- - Townsville
82.8
2.5
2004/05
Summer
22
30/01/2005
9 - 26
34.6
7 - 12
3
- - West Coast
42.9
1.4
2003/04
Summer
21
30/11/2003
16 - 42
38.1
7 - 11
3
- - Sydney
42.9
1.8
2002/03
Summer
18
31/01/2003
26 - 61
42.6
17 - 12
13
- - Bulleen
76.5
1.5
2001/02
Summer
22
01/03/2002
22 - 60
36.7
23 - 17
16
- - Sydney
69.6
1.4
2000/01
Summer
8
- - 2
0.0
- - -
- - -
0.0
0.1