Season Statistics
PPG


RPG


APG
6.1
FG%

Player Profile
Jessica Foley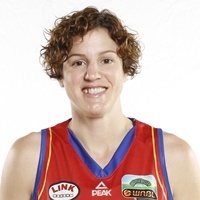 DOB: 20.04.83
Height: 182cm
Junior Club: Albury Cougars (NSW)/Wodonga Wolves (VIC)
WNBL Clubs: AIS 2000 – 2002; Adelaide Lightning 2006 – 2010; Dandenong Rangers 2010/11; Townsville Fire 2011 – 2013; Adelaide Lightning 2013 – Current.
WNBL Championships: (1) Adelaide Lightning 2008.
Bio: After three years at the AIS in Canberra, Foley made the move to the USA, taking up a scholarship with basketball institution the Duke University Blue Devils. Here she would set numerous three-point shooting records and help Duke to the 2006 NCAA Championship Game.
A return to the WNBL in 2006 with the Adelaide Lightning saw Foley become a genuine star of the league, helping Adelaide break their 10-year title drought – winning the 2008 WNBL Championship.
After four productive seasons in Adelaide, Foley spent one season at Dandenong before moving to Townsville, helping the Fire reach the 2013 WNBL Grand Final.
Foley moved to Adelaide to continue her schooling, re-joining the Lightning for the 2013/14 season.
Career Highlights: World University Games: 2007 (Gold), WNBL All-Star Five: 2008, FIBA Oceania Championships: 2009, FIBA Young Women's World Championship: 2001, 2003.
Season Statistics

2PT
3PT
FT
Rebounds
M
MIN
2PM-A
1st Half H.S
3PM-A
3PT
%
FTM-A
FT %
TOT
AST
PTS
Season
24
18/02/2012
84 - 195
43.1
76 - 93
59
- - Canberra
6.1
Career
253
10/10/2008
- - -
0.0
634 - 850
490
- - -
4.1
Previous Seasons

Competition
Season
M
MIN
2PM-A
1st Half H.S
3PM-A
3PT
%
FTM-A
FT %
PF
Total Pts
TOT
AST
PTS
2014/15
2014
22
22/11/2014
42 - 127
33.1
39 - 77
32
- - Melbourne
82.1
4.2
2013/14
2013
19
22/12/2013
53 - 130
40.8
42 - 67
36
- - Townsville
85.7
4.2
2012/13
27
30/11/2012
83 - 193
43.0
78 - 82
61
- - Adelaide
78.2
4.7
2011/12
Summer
24
18/02/2012
84 - 195
43.1
76 - 93
59
- - Canberra
77.6
6.1
2010/11
Summer
22
26/11/2010
- - -
0.0
45 - 48
33
- - Sydney
73.3
3.4
2001/02
Summer
21
23/02/2002
46 - 112
41.1
46 - 76
34
- - Townsville
73.9
3.5
2000/01
Summer
19
14/01/2001
23 - 49
46.9
15 - 30
12
- - West Coast
80.0
2.2
1999/00
8
09/01/2000
1 - 2
50.0
2 - -
2
- - West Coast
100.0
0.4
2009/10
Summer
18
15/01/2010
- - -
0.0
78 - 70
57
- - West Coast
73.1
6.3
2008/09
Summer
24
10/10/2008
- - -
0.0
86 - 114
64
- - Bendigo
74.4
4.8
2007/08
Summer
26
04/11/2007
- - -
0.0
88 - 89
73
- - Sydney
83.0
3.7
2006/07
Summer
23
23/12/2006
99 - 196
50.5
39 - 104
27
- - Bulleen
69.2
3.7