Season Statistics
PPG


RPG


APG
3.5
FG%

Player Profile
Amelia Todhunter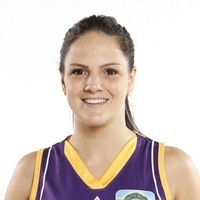 DOB: 21.05.88

Height: 166cm

Junior Club: Albury (NSW)
WNBL Clubs: Dandenong Rangers 2007 – 2010; Bulleen Boomers 2010 – 2012; West Coast Waves 2012/13; Melbourne Boomers 2013 – Current.
WNBL Championships: (1) Bulleen Boomers 2011.
Bio: Todhunter made the most of her opportunities as a rookie at the Dandenong Rangers, playing 44 games in her first two seasons before injury restricted her to just three appearances in the 2009/10 campaign.
A move to Bulleen brought a WNBL Championship – the first in club history. After two years with the Boomers, Todhunter went in search of greater responsibility and found it at the Waves. The diminutive guard posted career high numbers in points, rebounds and minutes played.
Season Statistics

2PT
3PT
FT
Rebounds
M
MIN
2PM-A
1st Half H.S
3PM-A
3PT
%
FTM-A
FT %
TOT
AST
PTS
Season
24
25/01/2013
40 - 96
41.7
26 - 30
23
- - Townsville
3.5
Career
164
07/12/2013
- - -
0.0
140 - 248
91
- - -
2.2
Previous Seasons

Competition
Season
M
MIN
2PM-A
1st Half H.S
3PM-A
3PT
%
FTM-A
FT %
PF
Total Pts
TOT
AST
PTS
2015/16
2015
25
07/11/2015
30 - 97
30.9
29 - 49
17
- - Melbourne Boomers
58.6
3.2
2014/15
2014
22
15/11/2014
19 - 43
44.2
10 - 22
7
- - Townsville
70.0
1.5
2013/14
2013
25
07/12/2013
35 - 68
51.5
16 - 70
9
- - Bendigo
56.3
2.9
2012/13
24
25/01/2013
40 - 96
41.7
26 - 30
23
- - Townsville
88.5
3.5
2009/10
Summer
3
10/10/2009
- - -
0.0
4 - 2
3
- - Sydney
75.0
2.3
2008/09
Summer
22
08/11/2008
- - -
0.0
23 - 33
13
- - AIS
56.5
1.6
2007/08
Summer
12
02/12/2007
- - -
0.0
2 - 13
2
- - Bendigo
100.0
0.7
2011/12
Summer
11
28/01/2012
7 - 25
28.0
12 - 9
8
- - Bendigo
66.7
1.6
2010/11
Summer
20
19/02/2011
- - -
0.0
18 - 20
9
- - Dandenong
50.0
1.4