Season Statistics
PPG
9.9
RPG
3.3
APG
2.9
FG%
40.7
Player Profile
Mia Murray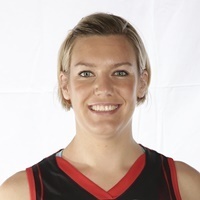 DOB: 04.08.88
Height: 184cm
Junior Club: Forestville Eagles (SA)
WNBL Clubs: AIS 2006 – 2008; Adelaide Lightning 2008/09 – 2010/11; Townsville Fire 2011/12 – Current.
WNBL Championships: (1) Townsville Fire 2014/15.
Bio: Mia Newley's reputation as a big-time player was further enhanced in 2014/15 as she guided the JCU Townsville Fire to their maiden Wattle Valley WNBL championship.
Having been lured to North Queensland by Chris Lucas following his appointment in 2011/12, Newley has taken her game to new levels culminating with the Rachael Sporn Medal for the 2014/15 WNBL Grand Final MVP.
Dangerous at both ends of the floor, Newley's size makes her a difficult match-up for opposition teams and her shooting ability from beyond the arc ensures that she spreads the floor.
A leader amongst the Fire, Newley averaged 9.8 points, 4.6 rebounds and 2.1 assists during the club's championship campaign.
Career Highlights: WNBL Grand Final MVP (Rachael Sporn Medal): 2014/15, World University Games: 2009 (Bronze), 2011 (Bronze), FIBA U19 World Championships: 2007.
Season Statistics

FG
3PT
FT
Rebounds
M
FGM-A
FG%
3PM-A
3P%
FTM-A
FT%
TOT
AST
PTS
Season
28
100 - 246
40.7
41 - 108
38.0
36 - 46
78.3
3.3
2.9
9.9
Career
237
775 - 1816
42.7
246 - 677
36.3
256 - 341
75.1
3.1
1.8
8.7
Game Log

| Date | Opposition | Min | FGM - FGA | 3PM - 3PA | FTM - FTA | OR | DR | TR | AS | ST | BL | TO | PFS | Pts |
| --- | --- | --- | --- | --- | --- | --- | --- | --- | --- | --- | --- | --- | --- | --- |
| 10 Oct | BEN | 35:34 | 4 - 8 | 1 - 3 | 1 - 2 | 0 | 2 | 2 | 4 | 0 | 1 | 1 | 2 | 10 |
| 18 Oct | UCC | 29:09 | 7 - 16 | 3 - 6 | 1 - 1 | 5 | 3 | 8 | 7 | 2 | 0 | 2 | 2 | 18 |
| 24 Oct | ADL | 26:29 | 6 - 9 | 4 - 6 | 1 - 1 | 2 | 1 | 3 | 3 | 2 | 1 | 3 | 1 | 17 |
| 31 Oct | DAN | 30:04 | 3 - 10 | 0 - 3 | 5 - 6 | 4 | 6 | 10 | 4 | 0 | 0 | 0 | 0 | 11 |
| 2 Nov | MEL | 31:18 | 3 - 7 | 0 - 1 | 1 - 2 | 0 | 0 | 0 | 2 | 0 | 0 | 3 | 5 | 7 |
| 8 Nov | SYD | 25:21 | 2 - 8 | 0 - 1 | 0 | 2 | 2 | 4 | 1 | 0 | 1 | 2 | 0 | 4 |
| 15 Nov | MEL | 24:32 | 3 - 12 | 1 - 5 | 2 - 2 | 1 | 4 | 5 | 5 | 1 | 0 | 2 | 4 | 9 |
| 20 Nov | SEQ | 27:25 | 2 - 5 | 0 - 2 | 1 - 1 | 1 | 2 | 3 | 0 | 0 | 1 | 3 | 2 | 5 |
| 22 Nov | UCC | 25:04 | 6 - 8 | 0 - 1 | 0 - 1 | 1 | 2 | 3 | 1 | 1 | 1 | 0 | 0 | 12 |
| 28 Nov | PER | 27:35 | 3 - 7 | 1 - 2 | 0 | 0 | 1 | 1 | 1 | 0 | 0 | 1 | 2 | 7 |
| 4 Dec | BEN | 34:53 | 5 - 11 | 4 - 7 | 2 - 2 | 1 | 2 | 3 | 3 | 0 | 2 | 2 | 3 | 16 |
| 13 Dec | SYD | 32:08 | 4 - 7 | 0 - 3 | 0 | 0 | 1 | 1 | 3 | 0 | 0 | 2 | 3 | 8 |
| 18 Dec | SEQ | 30:12 | 0 - 7 | 0 - 3 | 2 - 2 | 1 | 2 | 3 | 6 | 0 | 1 | 2 | 2 | 2 |
| 20 Dec | DAN | 32:42 | 3 - 7 | 3 - 6 | 2 - 2 | 1 | 1 | 2 | 5 | 0 | 0 | 3 | 1 | 11 |
| 31 Dec | PER | 34:07 | 6 - 10 | 3 - 5 | 0 | 0 | 2 | 2 | 3 | 0 | 0 | 1 | 1 | 15 |
| 2 Jan | ADL | 23:33 | 2 - 7 | 0 - 5 | 0 | 0 | 2 | 2 | 3 | 1 | 2 | 2 | 2 | 4 |
| 9 Jan | SEQ | 34:28 | 4 - 11 | 4 - 7 | 2 - 2 | 2 | 3 | 5 | 4 | 0 | 1 | 3 | 1 | 14 |
| 24 Jan | UCC | 26:33 | 0 - 7 | 0 - 2 | 2 - 2 | 0 | 6 | 6 | 2 | 1 | 1 | 0 | 0 | 2 |
| 29 Jan | SYD | 34:17 | 7 - 12 | 2 - 6 | 3 - 3 | 0 | 2 | 2 | 2 | 0 | 0 | 1 | 2 | 19 |
| 6 Feb | MEL | 18:52 | 3 - 4 | 2 - 2 | 0 | 0 | 1 | 1 | 2 | 0 | 0 | 2 | 0 | 8 |
| 7 Feb | BEN | 28:01 | 4 - 11 | 2 - 6 | 0 | 2 | 2 | 4 | 4 | 1 | 1 | 1 | 1 | 10 |
| 12 Feb | DAN | 27:28 | 1 - 3 | 1 - 2 | 0 | 1 | 1 | 2 | 5 | 0 | 1 | 0 | 1 | 3 |
| 19 Feb | PER | 23:04 | 3 - 6 | 1 - 3 | 0 - 1 | 0 | 3 | 3 | 3 | 0 | 1 | 6 | 2 | 7 |
| 20 Feb | ADL | 23:36 | 1 - 8 | 0 - 2 | 2 - 2 | 2 | 2 | 4 | 1 | 1 | 0 | 1 | 3 | 4 |
| 28 Feb | PER | 30:49 | 3 - 9 | 2 - 6 | 1 - 2 | 0 | 3 | 3 | 2 | 1 | 1 | 2 | 4 | 9 |
| 6 Mar | SEQ | 28:58 | 9 - 19 | 4 - 8 | 2 - 3 | 2 | 2 | 4 | 1 | 1 | 0 | 1 | 4 | 24 |
| 12 Mar | PER | 26:51 | 1 - 7 | 0 - 2 | 3 - 5 | 1 | 3 | 4 | 1 | 0 | 0 | 1 | 1 | 5 |
| 18 Mar | PER | 35:42 | 5 - 10 | 3 - 3 | 3 - 4 | 0 | 3 | 3 | 4 | 3 | 0 | 1 | 4 | 16 |
Previous Seasons

| Competition | Season | M | FGM-A | FG% | 3PM-A | 3P% | FTM-A | FT% | PFS | Pts | TOT | AST | PTS |
| --- | --- | --- | --- | --- | --- | --- | --- | --- | --- | --- | --- | --- | --- |
| 2015/16 | 2015 | 28 | 100 - 246 | 40.7 | 41 - 108 | 38.0 | 36 - 46 | 78.3 | 53 | 277 | 3.3 | 2.9 | 9.9 |
| 2014/15 | 2014 | 24 | 88 - 213 | 41.3 | 26 - 79 | 32.9 | 30 - 36 | 83.3 | 38 | 234 | 4.6 | 2.1 | 9.8 |
| 2013/14 | 2013 | 27 | 89 - 185 | 48.1 | 31 - 77 | 40.3 | 14 - 15 | 93.3 | 48 | 223 | 3.1 | 1.9 | 8.3 |
| 2012/13 | | 23 | 87 - 207 | 42.0 | 26 - 74 | 35.1 | 28 - 29 | 96.6 | 27 | 228 | 2.7 | 1.8 | 9.9 |
| 2011/12 | Summer | 20 | 61 - 150 | 40.7 | 13 - 40 | 32.5 | 24 - 34 | 70.6 | 28 | 159 | 3.1 | 1.7 | 8.0 |
| 2007/08 | Summer | 23 | 93 - 187 | 49.7 | 29 - 71 | 40.8 | 28 - 42 | 66.7 | 50 | 243 | 2.6 | 1.7 | 10.6 |
| 2006/07 | Summer | 21 | 38 - 106 | 35.8 | 20 - 52 | 38.5 | 14 - 26 | 53.8 | 24 | 110 | 1.3 | 0.9 | 5.2 |
| 2005/06 | Summer | 2 | 6 - 11 | 54.5 | 1 - 4 | 25.0 | 4 - 4 | 100.0 | 2 | 17 | 2.0 | 0.5 | 8.5 |
| 2010/11 | Summer | 22 | 105 - 244 | 43.0 | 27 - 82 | 32.9 | 39 - 51 | 76.5 | 49 | 276 | 5.2 | 2.2 | 12.5 |
| 2009/10 | Summer | 22 | 62 - 160 | 38.8 | 17 - 55 | 30.9 | 13 - 17 | 76.5 | 42 | 154 | 3.0 | 1.5 | 7.0 |
| 2008/09 | Summer | 24 | 45 - 103 | 43.7 | 15 - 35 | 42.9 | 24 - 39 | 61.5 | 26 | 129 | 2.2 | 1.3 | 5.4 |