Season Statistics
PPG


RPG


APG
3.0
FG%

Player Profile
Nicole Hunt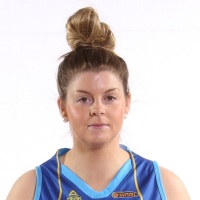 DOB: 15.10.88
Height: 167cm
Junior Club: Warrnambool (VIC)
WNBL Clubs: AIS 2006 – 2008; Dandenong Rangers 2008 – 2010; Canberra Capitals 2010 – Current.
WNBL Championships: Nil.
Bio: The country Victorian point guard began her WNBL career in Canberra at the AIS, impressing in her second season with the young team. This prompted a move to the Dandenong Rangers where after a strong first season, Hunt found herself used in a reduced capacity.
A return to the nation's capital with the Canberra Capitals eventuated, with Hunt quickly settling in as the lead guard and chief playmaker after the departure of Natalie Hurst. This prompted national team recognition, representing the Jayco Opals at the World University Games and FIBA Oceania Championships in 2011.
The return of Hurst to the Capitals fold will create greater competition for minutes in the Caps backcourt and provide Hunt with a new challenge.
Career Highlights: FIBA Oceania Championships: 2011, World University Games: 2011 (Bronze), FIBA U19 World Championships: 2007, WNBL Rookie of the Year: 2007/08.
Season Statistics

2PT
3PT
FT
Rebounds
M
MIN
2PM-A
1st Half H.S
3PM-A
3PT
%
FTM-A
FT %
TOT
AST
PTS
Season
22
29/10/2011
69 - 136
50.7
45 - 77
34
- - Adelaide
3.0
Career
166
29/10/2011
- - -
0.0
233 - 522
165
- - -
2.5
Previous Seasons

Competition
Season
M
MIN
2PM-A
1st Half H.S
3PM-A
3PT
%
FTM-A
FT %
PF
Total Pts
TOT
AST
PTS
2013/14
2013
22
03/01/2014
6 - 30
20.0
8 - 62
7
- - Bendigo
87.5
1.2
2009/10
Summer
17
05/12/2009
- - -
0.0
17 - 40
10
- - West Coast
58.8
1.8
2008/09
Summer
20
17/10/2008
- - -
0.0
23 - 85
13
- - Bendigo
56.5
2.6
2012/13
24
25/01/2013
64 - 143
44.8
42 - 81
32
- - Bulleen
76.2
2.6
2011/12
Summer
22
29/10/2011
69 - 136
50.7
45 - 77
34
- - Adelaide
75.6
3.0
2010/11
Summer
24
15/10/2010
- - -
0.0
32 - 44
24
- - Sydney
75.0
2.3
2007/08
Summer
24
19/01/2008
- - -
0.0
56 - 94
38
- - Bendigo
67.9
3.6
2006/07
Summer
13
22/12/2006
16 - 43
37.2
10 - 39
7
- - Sydney
70.0
2.8