Season Statistics
PPG


RPG


APG
10.3
FG%

Player Profile
Cayla George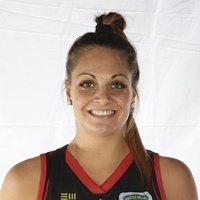 DOB: 1.5.1989

Hometown: Adelaide
Playing number: 22
Height: 192cm
Position: Forward
Previous clubs: AIS 2005/06 – 2007/08, Adelaide 2008/09, 2009/10, Logan 2010/11 – 2011/12, Townsville Fire 2014/15 – Current.
Bio: The 2014/15 Wattle Valley WNBL season saw Cayla Francis stamp her authority on the league in spectacular fashion. Having debuted in the WNBL with the AIS in 2005/06, Cayla had spent the past two seasons playing in France before being lured home with the JCU Townsville Fire. The 192cm forward was named the Betty Watson Rookie of the Year in 2006/07 after averaging 13.2 points, 8.4 rebounds, 2.0 assists and 1.6 blocks per game. A stint in Adelaide earnt her the Lightning's MVP Award in 2009/10 before crossing to the now-defunct Logan Thunder. Cayla won a last minute call-up to the 2014 FIBA World Championship for Women and played a pivotal role in guiding Australia to a bronze medal before lighting up the WNBL alongside Suzy Batkovic. Cayla averaged 17.4 points (ranked number four in the WNBL), 10.4 rebounds (ranked number three), 1.6 blocks (ranked number two), while also shooting 42.1% from beyond the arc (ranked number three) to guide the Fire to their maiden title and to finish second behind Abby Bishop in MVP voting.

Career Highlights: FIBA World Championships: 2012 (Bronze), WNBL All-Star Five: 2014/15, WNBL Rookie of the Year: 2006/07.

Season Statistics

2PT
3PT
FT
Rebounds
M
MIN
2PM-A
1st Half H.S
3PM-A
3PT
%
FTM-A
FT %
TOT
AST
PTS
Season
22
18/11/2011
130 - 291
44.7
62 - 23
51
- - Sydney
10.3
Career
198
30/11/2007
- - -
0.0
585 - 508
426
- - -
9.7
Previous Seasons

Competition
Season
M
MIN
2PM-A
1st Half H.S
3PM-A
3PT
%
FTM-A
FT %
PF
Total Pts
TOT
AST
PTS
2015/16
2015
28
31/10/2015
127 - 275
46.2
77 - 71
59
- - Dandenong Rangers
76.6
11.9
2014/15
2014
24
06/02/2015
125 - 245
51.0
89 - 76
69
- - UC Capitals
77.5
10.4
2011/12
Summer
22
18/11/2011
130 - 291
44.7
62 - 23
51
- - Sydney
82.3
10.3
2010/11
Summer
24
17/12/2010
- - -
0.0
57 - 56
34
- - West Coast
59.6
9.2
2007/08
Summer
22
30/11/2007
- - -
0.0
73 - 64
49
- - Christchurch
67.1
10.8
2006/07
Summer
21
02/12/2006
86 - 199
43.2
56 - 68
34
- - Townsville
60.7
8.4
2005/06
Summer
11
13/01/2006
32 - 90
35.6
25 - 17
16
- - Sydney
64.0
4.5
2009/10
Summer
22
28/11/2009
- - -
0.0
83 - 50
61
- - Logan
73.5
9.5
2008/09
Summer
24
21/02/2009
- - -
0.0
63 - 83
53
- - West Coast
84.1
8.9