Season Statistics
PPG


RPG


APG
5.4
FG%

Player Profile
Eva Afeaki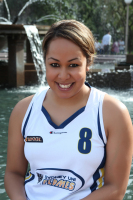 PERSONAL:
DOB 29/12/1984, Height: 184cm
POSITION: Forward
JUNIOR ASSOCIATION: Parramatta Wildcats (NSW)
WNBL CLUBS: AIS 2002-04; Sydney Uni 2004/05 - Current
INTERNATIONAL GAMES: 22 games (4 Young, 18 Senior) – 2007 World University Games (Gold), 2009 FIBA Oceania Championship (Gold)
INTERESTING FACTS: Eva enjoys listening and collecting music, spending time with friends and shopping. Her favourite artist at the moment is Lil Wayne and Beyonce. Eva loves travelling to different countries and experiencing all the amazing cultures. Her next desired destinations to travel to are South America and India. Favourite TV shows include Masterchef and Project Runway. Favourite colours are Blue & black. She is afraid of heights, snakes and bugs! Favourite food is Flames sponsor Ralphs Café's tuna & lentil Salad.
Eva's playing aspirations are to represent Australia at many Olympic Games. As a teenager her goal was to play for her home town with the Sydney Flames, which is now reality.
Fact: Longest serving Flames player on the team with 6 Consecutive Seasons. 5 people she would most like to meet are: Oprah, Richie McCaw, Kobe Bryant, Curtis Stone and Tyra Banks.
WNBL CAREER NOTES:
Eva played 19 games for the Flames in 2010/11 and averaged 7.5 points and 5.3 rebounds.In the 2009/10 season, Eva averaged 8.8 points, 7.1 rebounds, 2.4 assists and 1.1 steals per game in 19 games throughout the regular season. At the end of the regular season she was ranked seventh best in the league in offensive rebounds (2.8), and seventh in total rebounds (7.1). She scored an impressive 42% on shots from 3-point range. In the 2009/10 final series Eva averaged 4.5 rebounds, 3 points and 4 assists in two games. In the 2008/09 season Eva was a key contributor for the Flames, averaging 15 points per game, shooting at a career high 46.3 per cent from the field. Eva averaged 7.4 points and 5.4 rebounds per game in the regular season of 2007/08 and 6.5 points, 5.0 rebounds and 4 assists in the playoffs. In 2005/06, she was named the WNBL Ambassador for the Flames. In her first season with the Flames (2004/05), she averaged 5.3 rebounds. Starting her career at the AIS in the 2002/03 season, she averaged 2.9 points and 2.5 rebounds per game but in the following season it improved to 11.5 and 6.6 respectively.
GENERAL BASKETBALL CAREER NOTES:
Eva represented NSW Metro U16, U18 and NSW U20 at National Junior Championships and attended the Australian Junior Camp in 2000 and 2001. She spent 2 years at the AIS and became a member of the Australian Sapphires (U/21 Women) team in 2002-03. She won a Gold medal with the Australian World University Team at Bangkok in 2007. Eva represented the Opals at the 2009 FIBA Oceania Championship. Eva played with the Manly Warringah Sea Eagles in the 2010 NSW Waratah ABL.2011 Eva played for the Kilsyth Lady Cobras in the SEABL.
PERSONAL INFORMATION:
Eva has a very supportive family. Her two brothers Leo & Soakimi, and younger sister Mateki are always at Flames games. Eva's support is reciprocated as she attends all her siblings sporting pursuits. Eva's brother Leo previously played Super 14 rugby for the ACT Brumbies and has been recently playing in France for Narbonne. Eva attributes a lot of her success to her supportive parents, who have been the biggest influence and inspiration in her life.
COACH'S COMMENT: Eva returns as one our longest serving players and her versatility and rebounding will be important. She can play 3 positions, understands the league and is a quiet leader in the group.
Season Statistics

2PT
3PT
FT
Rebounds
M
MIN
2PM-A
1st Half H.S
3PM-A
3PT
%
FTM-A
FT %
TOT
AST
PTS
Season
10
21/10/2011
25 - 64
39.1
30 - 1
18
- - Logan
5.4
Career
193
21/11/2008
- - -
0.0
570 - 218
400
- - -
5.5
Previous Seasons

Competition
Season
M
MIN
2PM-A
1st Half H.S
3PM-A
3PT
%
FTM-A
FT %
PF
Total Pts
TOT
AST
PTS
2011/12
Summer
10
21/10/2011
25 - 64
39.1
30 - 1
18
- - Logan
60.0
5.4
2010/11
Summer
19
27/11/2010
- - -
0.0
49 - 3
38
- - Bulleen
77.6
5.3
2009/10
Summer
21
15/11/2009
- - -
0.0
64 - 13
47
- - Bulleen
73.4
6.8
2008/09
Summer
22
21/11/2008
- - -
0.0
128 - 25
90
- - Canberra
70.3
6.4
2007/08
Summer
18
16/02/2008
- - -
0.0
34 - 9
26
- - Townsville
76.5
5.4
2006/07
Summer
23
10/11/2006
98 - 212
46.2
76 - 7
51
- - Canberra
67.1
5.4
2005/06
Summer
21
21/01/2006
57 - 130
43.8
42 - 16
34
- - Dandenong
81.0
5.3
2004/05
Summer
24
22/12/2004
52 - 142
36.6
56 - 59
39
- - Canberra
69.6
5.3
2003/04
Summer
21
08/11/2003
70 - 185
37.8
71 - 66
47
- - Bulleen
66.2
6.6
2002/03
Summer
14
12/10/2002
9 - 36
25.0
20 - 19
10
- - Dandenong
50.0
2.5