Season Statistics
PPG


RPG


APG
6.0
FG%

Player Profile
Deanna Smith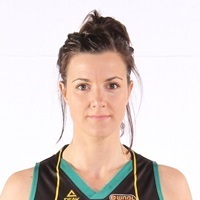 DOB: 24.12.80
Height: 179cm
Junior Club: Bendigo/Warrnambool/Melbourne (VIC)
WNBL Clubs: Melbourne Tigers 1996; AIS 1997 – 1999; Canberra Capitals 1999/00; Adelaide Lightning 2000 – 2004; Perth Lynx 2005/06, 2008/09; Sydney Uni Flames 2009/10; Bendigo Spirit 2011/12; West Coast Waves 2012 – Current.
WNBL Championships: (2) AIS 1999; Canberra Capitals 2000.
Bio: Emerging as part of the famous AIS team of the late 1990s, winning the 1999 WNBL Championship alongside the likes of Lauren Jackson and Penny Taylor, Smith came into her own at the Adelaide Lightning.
It was in South Australia the guard thrived under the added responsibility, producing impressive seasons before making the move west to join the Perth Lynx (now the West Coast Waves) in 2005.
Here Smith joined the WNBL elite, posting career high numbers (21.7ppg) and earning a spot in the Jayco Opals squad.
The country Victorian got her first taste of overseas basketball in 2004 with the Manchester Mystics in the British league before returning to Europe in 2006, joining Portuguese team CAB Madeira – winning the league title in her first season.
Smith returned to the WNBL and the Lynx, earning her second All-Star Five honour before before repeating the dose in the 2009/10 season at the Sydney Uni Flames. Cruelly, serious injury sidelined Smith for the 2010/11 campaign before another impressive season at the Bendigo Spirit.
Injury again ravaged Smith's return to the Waves, restricting her to just six games after setting the competition alight, winning the MVP at the 2012 WNBL Pre-Season Tournament.
Career Highlights: WNBL All-Star Five: 2006, 2009, 2010.
Season Statistics

2PT
3PT
FT
Rebounds
M
MIN
2PM-A
1st Half H.S
3PM-A
3PT
%
FTM-A
FT %
TOT
AST
PTS
Season
6
12/10/2012
29 - 62
46.8
11 - 16
9
- - Sydney
6.0
Career
267
12/10/2008
- - -
0.0
723 - 722
604
- - -
3.8
Previous Seasons

Competition
Season
M
MIN
2PM-A
1st Half H.S
3PM-A
3PT
%
FTM-A
FT %
PF
Total Pts
TOT
AST
PTS
2014/15
2014
20
05/12/2014
57 - 105
54.3
53 - 58
49
- - Dandenong
92.5
3.1
2013/14
2013
3
05/10/2013
15 - 25
60.0
14 - 5
12
- - Adelaide
85.7
8.0
2012/13
6
12/10/2012
29 - 62
46.8
11 - 16
9
- - Sydney
81.8
6.0
2008/09
Summer
17
12/10/2008
- - -
0.0
97 - 70
87
- - Bendigo
89.7
6.4
2005/06
Summer
21
02/12/2005
132 - 284
46.5
83 - 96
69
- - Bulleen
83.1
5.7
2009/10
Summer
24
23/01/2010
- - -
0.0
96 - 79
82
- - Canberra
85.4
5.8
1999/00
24
13/11/1999
54 - 116
46.6
46 - 39
32
- - Dandenong
69.6
2.3
2003/04
Summer
1
- - -
0.0
- - -
- - -
0.0
0.0
2011/12
Summer
21
13/01/2012
82 - 170
48.2
87 - 72
76
- - Dandenong
87.4
5.1
1998/99
23
16/10/1998
32 - 61
52.5
16 - 27
11
- - Bulleen
68.8
2.0
1998
12
27/03/1998
4 - 10
40.0
17 - 6
15
- - Sydney
88.2
0.8
1997
13
20/07/1997
5 - 15
33.3
1 - 4
- - Dandenong
0.0
1.0
2003/04
Summer
21
13/12/2003
86 - 177
48.6
56 - 68
43
- - Bulleen
76.8
3.8
2002/03
Summer
22
17/11/2002
62 - 131
47.3
60 - 68
50
- - Sydney
83.3
3.2
2001/02
Summer
17
18/11/2001
40 - 111
36.0
27 - 43
25
- - Sydney
92.6
3.2
2000/01
Summer
22
03/02/2001
77 - 173
44.5
59 - 71
44
- - West Coast
74.6
4.1