Season Statistics
PPG


RPG


APG
8.2
FG%

Player Profile
Michelle Brogan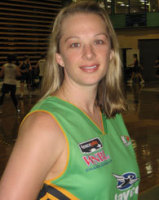 PERSONAL:
DOB 8/02/1973, Height: 186cm
POSITION: Forward
JUNIOR ASSOCIATION: Norlunga City Tigers (SA)
FIRST PLAYED WNBL: 1988
WNBL CLUBS: AIS 1998-90; Noarlunga 1991; Adelaide City 1992; Adelaide 1992-96; Sydney 1997-98; Melbourne 1999/01; Adelaide 2001/02 - 2003/04; Dandenong 2007/08 - Present
INTERNATIONAL GAMES: as of 4/1/08 240 games (60 Junior), (180 Senior) Youth World Championship 1993 (Gold); Women's World Championship 1994 (4th) ; Atlanta Olympic Games 1996 (Bronze); Women's World Championship 1998 (Bronze); Sydney Olympic Games 2000 (Silver); Women's World Championship 2002 (Bronze).
WNBL CAREER NOTES: Returned to the WNBL after playing several seasons overseas. She was awarded Life Membership of the WNBL in 2003/04. In the 2003/04 season, she was ranked seventh in blocked shots (16) and amassed 140 points in 15 games. She was WNBL Youth Player of the Year in 1991; WNBL Most Valuable Player in 1998; WNBL All Star All Five in 1992 - 1998. In the 2000/01 season she ranked third in the league in points per game (17.7)
GENERAL BASKETBALL CAREER NOTES: Michelle was named Basketball Australia International Player of the Year in 1995 and 1997. She was a member of the Junior World Championship team that won Australia's first ever Gold medal 1993; played in the WNBA with the Phoenix Mercury
ADF OPALS: Michelle is a current squad member of the Australian Defence Force Opals.
WNBL CHAMPIONSHIPS: (3) Adelaide 1995, 1996, Sydney 1997
Season Statistics

2PT
3PT
FT
Rebounds
M
MIN
2PM-A
1st Half H.S
3PM-A
3PT
%
FTM-A
FT %
TOT
AST
PTS
Season
18
26/01/2008
- - -
0.0
86 - 22
64
- - Townsville
8.2
Career
274
05/04/1998
- - -
0.0
1045 - 214
767
- - -
7.1
Previous Seasons

Competition
Season
M
MIN
2PM-A
1st Half H.S
3PM-A
3PT
%
FTM-A
FT %
PF
Total Pts
TOT
AST
PTS
1994
1994
9
23/04/1994
32 - 62
51.6
36 - 11
21
- - AIS
58.3
8.1
1993
1993
17
05/06/1993
87 - 160
54.4
81 - 8
67
- - Brisbane
82.7
6.9
1992
1992
18
11/04/1992
114 - 195
58.5
110 - 5
86
- - Dandenong
78.2
9.2
1991
1991
19
19/05/1991
109 - 232
47.0
92 - 1
61
- - West Adelaide
66.3
8.4
1990
1990
23
19/08/1990
71 - 147
48.3
62 - 1
41
- - Melbourne
66.1
4.9
1989
1989
23
07/05/1989
49 - 118
41.5
70 - 4
43
- - Noarlunga
61.4
4.3
1988
1988
22
10/07/1988
51 - 99
51.5
48 - -
26
- - Tassie
54.2
3.6
1998
14
05/04/1998
89 - 181
49.2
61 - 21
43
- - West Coast
70.5
10.7
1997
21
11/04/1997
89 - 188
47.3
57 - 22
48
- - AIS
84.2
9.0
2000/01
Summer
8
11/02/2001
44 - 87
50.6
39 - 21
26
- - AIS
66.7
7.8
1999/00
10
11/12/1999
47 - 99
47.5
52 - 17
43
- - West Coast
82.7
6.3
2007/08
Summer
18
26/01/2008
- - -
0.0
86 - 22
64
- - Townsville
74.4
8.2
2003/04
Summer
17
11/01/2004
56 - 116
48.3
53 - 19
44
- - Dandenong
83.0
6.5
2001/02
Summer
16
22/12/2001
67 - 154
43.5
71 - 9
60
- - Townsville
84.5
7.8
1996
20
12/04/1996
74 - 148
50.0
56 - 19
38
- - Sydney
67.9
7.4
1995
19
07/05/1995
76 - 151
50.3
71 - 34
56
- - West Coast
78.9
7.9