Season Statistics
PPG


RPG


APG


FG%

Player Profile
Jenny Whittle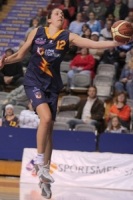 PERSONAL:
DOB 5/10/1973, Height: 197cm
POSITION: Centre
JUNIOR ASSOCIATION: UCSC Labrador (QLD)
FIRST PLAYED WNBL: 1989 AIS
WNBL CLUBS: AIS 1989-91; Brisbane 1992-97; Perth 1998-99; Bulleen 1999/00; Canberra 2004-06; Adelaide 2007/08 - Current
INTERNATIONAL GAMES: as of 4/1/2008 - 331 games - (60 Junior), (271 Senior). 1994 Senior World Championship (4th), 1996 Atlanta Olympic Games (Bronze), 1998 Senior World Championship (Bronze), 2000 Sydney Olympic Games (Silver), 2002 World Championship (Bronze), 2006 Commonwealth Games (Gold), 2006 Senior World Championship (Gold)
WNBL CAREER NOTES: A legend of the game in Australia, Jenny returns to the WNBL after playing in Austria last season. Since making her debut for the AIS in 1989, she has amassed in excess of 3,500 points (currently 8th all-time), 2, 100 rebounds (currently 5th all-time), 653 blocked shots, the most of all time, and 490 assists.

In her three seasons with the AIS she scored 470 points and tallied 352 rebounds, including a career best 206 in 1991 before heading to Brisbane where she played 96 games over six seasons and scored 1399 points to go with 876 rebounds - averages of 14.6 points and 9.1 rebounds. She joined the Perth Breakers in 1998, averaging 12.6 points in 32 games before playing for Bulleen in 1999/00 and averaged 12.7 points and 5.7 rebounds.

After four years overseas she joined the Canberra Capitals and over the next two seasons averaged 17.0 points, 7.0 rebounds and 2.2 assists per game and won the 2005/06 championship. She averaged 12.6 points and 7.7 rebounds in her 10 finals appearances to date.

She is a WNBL Life Member (2005/06), a four time All-Star five member (1996, 1999, 2004/05, 2005/06), ranks second for most defensive rebounds of all time and prior to the 2007/08 season had played 278 WNBL games (13th all-time).
GENERAL BASKETBALL CAREER NOTES: Has represented the Opals on 271 occasions culminating in winning the 2006 World Championship in Brazil. She has won Olympic Silver and Bronze medals and a further two World Championship Bronze medals. She was a member of the gold medal Australian team that played at the U19 World Championships in 1993. Was chosen by the Washington Mystics with the 37th pick overall in the 1999 WNBA Draft. Played with Osnabruck in Germany from 1996-97, with Tarbes France from 2000-01 and Burgos Spain between 2001 and 03
PERSONAL INFORMATION: Her proudest moment in basketball was winning the 2006 World Championship. Her most admired sportsperson is Lauren Jackson. She one day plans to travel overseas without packing her basketball shoes. Her favourite movie is the Shawshank Redemption. Her favourite television show is Desperate Housewives. Her favourite comedian is Robin Williams. Her favourite food is Seafood and her favourite invention is the internet
WNBL Championships: 2005/06 Canberra Capitals 2007/08 Adelaide
Season Statistics
Season
Career
Previous Seasons

Competition
Season
M
MIN
2PM-A
1st Half H.S
3PM-A
3PT
%
FTM-A
FT %
PF
Total Pts
TOT
AST
PTS
1994
1994
17
19/08/1994
83 - 192
43.2
49 - 2
30
- - AIS
61.2
9.8
1993
1993
15
01/05/1993
84 - 164
51.2
42 - 1
33
- - Bulleen
78.6
8.6
1992
1992
11
18/04/1992
63 - 111
56.8
28 - -
23
- - West Coast
82.1
7.5
1991
1991
22
28/06/1991
102 - 206
49.5
50 - -
42
- - West Coast
84.0
9.4
1990
1990
22
28/04/1990
53 - 109
48.6
26 - -
18
- - Noarlunga
69.2
3.6
1989
1989
22
30/07/1989
39 - 83
47.0
31 - -
22
- - West Coast
71.0
3.0
1998/99
24
24/10/1998
117 - 243
48.1
65 - 15
49
- - AIS
75.4
7.8
1998
13
21/02/1998
63 - 143
44.1
35 - 16
29
- - Dandenong
82.9
8.3
2005/06
Summer
24
19/11/2005
136 - 291
46.7
111 - 32
87
- - Townsville
78.4
9.0
2004/05
Summer
21
09/12/2004
131 - 285
46.0
82 - 41
65
- - AIS
79.3
9.2
1999/00
23
06/02/2000
93 - 198
47.0
60 - 52
52
- - Dandenong
86.7
6.1
1997
18
03/08/1997
108 - 212
50.9
79 - 31
59
- - Bulleen
74.7
8.6
1996
18
02/06/1996
125 - 216
57.9
69 - 31
50
- - AIS
72.5
11.2
1995
18
24/06/1995
101 - 202
50.0
41 - 10
21
- - Sydney
51.2
8.7
2007/08
Summer
27
09/11/2007
- - -
0.0
47 - 54
40
- - Sydney
85.1
6.3