Season Statistics
PPG


RPG


APG
4.0
FG%

Player Profile
Natalie Hurst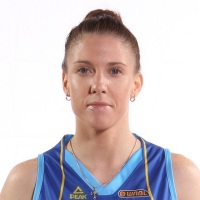 DOB: 08.04.83
Height: 163cm
Junior Club: Canberra (ACT)
WNBL Clubs: Canberra Capitals 1999 – 2010, 2013 – Current.
WNBL Championships: (6) Canberra Capitals 2002, 2003, 2006, 2007, 2009, 2010.
Bio: A youngster from the ACT, it seemed only natural that Hurst would make her name in a Canberra Capitals uniform.
This was the start of a decade-long stay with her hometown club that garnered six remarkable championships and a WNBL Grand Final MVP in 2009.
Part of the gold medal team at the 2007 World University Games, Hurst quickly established herself in and around the Jayco Opals squad, prompting a move to France in 2010.
Two strong seasons in France led to the chance to excel in Hungary, where Hurst led her Uni Gyor team to league finals on the back of being top five in points and assists.
Hurst returns to the WNBL for the 2013/14 season, joining her hometown Canberra Capitals.
Career Highlights: World University Games: 2007 (Gold), FIBA Oceania Championships: 2009, 2011, 2013, WNBL Grand Final MVP: 2009.
Season Statistics

2PT
3PT
FT
Rebounds
M
MIN
2PM-A
1st Half H.S
3PM-A
3PT
%
FTM-A
FT %
TOT
AST
PTS
Season
22
13/12/2013
66 - 171
38.6
77 - 77
68
- - Townsville
4.0
Career
228
13/12/2013
- - -
0.0
372 - 494
290
- - -
2.6
Previous Seasons

Competition
Season
M
MIN
2PM-A
1st Half H.S
3PM-A
3PT
%
FTM-A
FT %
PF
Total Pts
TOT
AST
PTS
2013/14
2013
22
13/12/2013
66 - 171
38.6
77 - 77
68
- - Townsville
88.3
4.0
2009/10
Summer
25
03/10/2009
- - -
0.0
64 - 86
50
- - Bulleen
78.1
4.4
2008/09
Summer
21
31/10/2008
- - -
0.0
43 - 86
30
- - Bulleen
69.8
5.2
2007/08
Summer
25
17/10/2007
- - -
0.0
62 - 112
48
- - Sydney
77.4
3.1
2006/07
Summer
24
21/12/2006
52 - 113
46.0
61 - 53
44
- - Sydney
72.1
2.9
2005/06
Summer
20
20/01/2006
8 - 26
30.8
15 - 14
12
- - West Coast
80.0
1.7
2002/03
Summer
23
14/12/2002
8 - 29
27.6
20 - 27
16
- - West Coast
80.0
1.7
2001/02
Summer
23
22/12/2001
16 - 32
50.0
16 - 24
11
- - West Coast
68.8
1.4
2000/01
Summer
23
25/11/2000
6 - 24
25.0
6 - 14
4
- - Melbourne
66.7
0.9
1999/00
22
29/01/2000
- - 3
0.0
8 - 1
7
- - Dandenong
87.5
0.2