Season Statistics
PPG


RPG


APG


FG%

Player Profile
Hanna Zavecz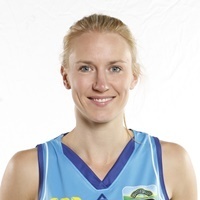 DOB: 21.08.85
Height: 183cm
Junior Club: Wangaratta (VIC)
WNBL Clubs: AIS 2002 – 2004; Bendigo Spirit 2008/09; Bulleen Boomers 2009 – 2011; Logan Thunder 2013 – Current.
WNBL Championships: (1) Bulleen Boomers 2011.
Bio: Another product of the famed AIS, Zavecz took the less traditional route after graduating from the AIS, heading to the USA to take a scholarship with the University of Wyoming.
The move across the Pacific Ocean agreed with Zavecz, starring in her first season for the Cowgirls and quickly establishing herself as one of the premier players in the Mountain West Conference.
Zavecz's four-year stint at Wyoming was littered with individual accolades, named in the All-MWC First Team on three occasions, earning two MWC Defensive Player of the Year honours and helping the Cowgirls to the 2007 WNIT title, winning the tournament MVP.
A return to the WNBL brought the Wangaratta junior to the national team attention, playing a starring role in the Bulleen Boomers winning their first WNBL title in 2011.
After achieving the ultimate success with Bulleen, the 183cm guard made the move to Hungary, joining powerhouse UNIQA Sopron where she would enjoy a strong first season in Europe.
After narrowly missing out on the 2012 London Olympics squad, Zavecz returned for another season in Hungary before announcing her signing with the Logan Thunder for the 2013/14 WNBL season.
Career Highlights: FIBA Oceania Championships: 2011, 2013, Women's National Invitational Tournament (WNIT): 2007, WNIT MVP: 2007, All-Mountain West Conference (MWC) First Team: 2006, 2007, 2008, MWC Defensive Player of the Year: 2006, 2008.
Season Statistics
Season
Career
Previous Seasons

Competition
Season
M
MIN
2PM-A
1st Half H.S
3PM-A
3PT
%
FTM-A
FT %
PF
Total Pts
TOT
AST
PTS
2014/15
2014
13
17/10/2014
14 - 54
25.9
25 - 5
18
- - Melbourne
72.0
3.6
2013/14
2013
17
05/10/2013
59 - 140
42.1
60 - 15
43
- - Dandenong
71.7
5.9
2010/11
Summer
22
30/01/2011
- - -
0.0
54 - 8
46
- - AIS
85.2
5.8
2009/10
Summer
24
03/10/2009
- - -
0.0
65 - 38
48
- - Canberra
73.8
5.8
2008/09
Summer
17
16/01/2009
- - -
0.0
30 - 32
20
- - Bulleen
66.7
4.7
2003/04
Summer
17
08/11/2003
53 - 124
42.7
49 - 37
31
- - Bulleen
63.3
3.6
2002/03
Summer
18
15/11/2002
14 - 29
48.3
12 - 10
5
- - Bulleen
41.7
1.4