Season Statistics
PPG


RPG


APG
0.2
FG%

Player Profile
Aimie Clydesdale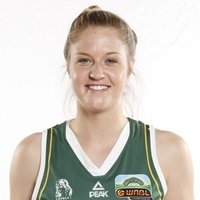 DOB: 21.09.93
Height: 176cm
Junior Club: Dandenong Rangers (VIC)
WNBL Clubs: Dandenong 2010 – Current.

WNBL Championships: (1) Dandenong Rangers 2012.
Bio: Another year of development for the Dandenong product saw Clydesdale take on greater responsibility off the bench, playing 21 games and setting career-highs in all statistical categories.
With Kathleen MacLeod out for the upcoming season expect Clydesdale to take on added responsibility in the new-look Rangers team.
Career Highlights: FIBA U19 World Championships: 2011 (Semi Final).
Season Statistics

2PT
3PT
FT
Rebounds
M
MIN
2PM-A
1st Half H.S
3PM-A
3PT
%
FTM-A
FT %
TOT
AST
PTS
Season
5
03/12/2010
- - -
0.0
2 - 1
- - Bulleen
0.2
Career
90
21/02/2015
- - -
0.0
56 - 66
35
- - -
1.3
Previous Seasons

Competition
Season
M
MIN
2PM-A
1st Half H.S
3PM-A
3PT
%
FTM-A
FT %
PF
Total Pts
TOT
AST
PTS
2015/16
2015
16
25/01/2016
18 - 56
32.1
12 - 29
8
- - Melbourne Boomers
66.7
2.1
2014/15
2014
23
21/02/2015
38 - 104
36.5
16 - 19
15
- - Sydney Uni
93.8
2.0
2013/14
2013
19
19/01/2014
24 - 53
45.3
10 - 9
4
- - Townsville
40.0
1.2
2012/13
21
05/10/2012
15 - 31
48.4
16 - 5
8
- - Bulleen
50.0
0.7
2011/12
Summer
6
15/01/2012
2 - 6
33.3
- - 3
- - West Coast
0.0
0.2
2010/11
Summer
5
03/12/2010
- - -
0.0
2 - 1
- - Bulleen
0.0
0.2