Season Statistics
PPG


RPG


APG


FG%

Player Profile
Shelley Chaplin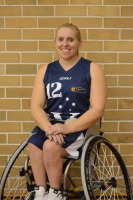 DATE OF BIRTH:
4th September 1984
CLASSIFICIATION: 3.5
FIRST PLAYED WNNBL:
INTERNATIONAL GAMES:
Won gold at the 2009 Osaka Cup...
Won a bronze medal with the Gliders at the 2008 Paralympic Games in Beijing...
2007 Asia Oceania Qualification tournament; Osaka Cup (silver)...
In 2004 won silver with the Gliders at the Paralympic Games in Athens...
In 2003 selected for the U21 Junior Nationals mixed wheelchair team...
Member of 2002 World Wheelchair Basketball Championship Bronze medallist team and Junior National Wheelchair Basketball Championship Silver medallist team...
In 2001 selected in the Gliders; captained at the Junior National Wheelchair Games...
In 2000 played first season with national team Whittlesea Pacers...
Won silver at the 1999 Junior National Games.
GENERAL BASKETBALL CAREER NOTES:
GOALS:
EDUCATION:
PLAYER NUMBER: 12
Season Statistics
Season
Career
Game Log

| Date | Opposition | MIN | FGM - FGA | 3PM - 3PA | FTM - FTA | OR | DR | TR | AS | BL | TO | PFS | PTS |
| --- | --- | --- | --- | --- | --- | --- | --- | --- | --- | --- | --- | --- | --- |
| 3 Jun | Perth Star | 2 | 33:07 - 12 | 14 - 50.0 | 0.0 | 2 | 50.0 | 1 | 1 | 0 | 5 | 1 | 3 |
| 4 Jun | Sydney Uni | 2 | 30:44 - 12 | 12 - 41.7 | 0.0 | 4 | 0.0 | 1 | 0 | 0 | 8 | 1 | 2 |
| 4 Jun | Bears | 2 | 26:34 - 12 | 6 - 50.0 | 0.0 | 8 | 25.0 | 4 | 0 | 1 | 7 | 1 | 0 |
| 5 Jun | Minecraft | 3 | 33:57 - 12 | 16 - 37.5 | 0.0 | 2 | 100.0 | 2 | 0 | 0 | 10 | 3 | 4 |
| 2 Jul | Bears | 3 | 28:17 - 12 | 11 - 81.8 | 0.0 | 2 | 0.0 | 2 | 0 | 2 | 9 | 3 | 1 |
| 2 Jul | Minecraft | 3 | 24:16 - 12 | 13 - 53.8 | 0.0 | 2 | 50.0 | 4 | 0 | 3 | 3 | 4 | 1 |
| 3 Jul | Sydney Uni | 3 | 21:31 - 12 | 15 - 73.3 | 0.0 | 1 | 0.0 | 0 | 1 | 0 | 5 | 1 | 2 |
| 3 Jul | Perth Star | 4 | 36:35 - 12 | 17 - 41.2 | 0.0 | 0 | 0.0 | 5 | 0 | 2 | 7 | 3 | 2 |
| 6 Aug | Bears | 6 | 31:46 - 12 | 13 - 62.0 | 0.0 | 6 | 17.0 | 1 | 0 | 2 | 6 | 2 | 4 |
| 6 Aug | Perth Star | 3 | 31:47 - 12 | 16 - 43.8 | 0.0 | 6 | 50.0 | 3 | 0 | 1 | 7 | 0 | 1 |
| 7 Aug | Sydney Uni | 6 | 36:48 - 12 | 11 - 45.5 | 0.0 | 3 | 66.7 | 0 | 0 | 1 | 9 | 4 | 1 |
| 7 Aug | Minecraft | 6 | 36:31 - 12 | 17 - 76.5 | 0.0 | 8 | 62.5 | 3 | 0 | 2 | 14 | 1 | 1 |
| 20 Aug | Bears | 3 | 28:10 - 12 | 6 - 50.0 | 0.0 | 2 | 50.0 | 0 | 0 | 0 | 11 | 2 | 3 |
| 20 Aug | Sydney Uni | 6 | 39:22 - 12 | 13 - 46.2 | 0.0 | 2 | 50.0 | 5 | 0 | 1 | 6 | 6 | 1 |
| 21 Aug | Perth Star | 2 | 28:39 - 12 | 15 - 33.3 | 0.0 - 1 | 4 | 0.0 | 4 | 0 | 0 | 7 | 5 | 1 |
| 21 Aug | Minecraft | 0 | 27:47 - 12 | 8 - 37.5 | 0.0 | 1 | 0.0 | 2 | 0 | 0 | 13 | 2 | 1 |
| 23 Sep | Perth Star | 6 | 40:00 - 12 | 14 - 50.0 | 0.0 | 12 | 33.3 | 3 | 0 | 3 | 5 | 5 | 0 |
| 25 Sep | Sydney Uni | 3 | 40:00 - 12 | 16 - 50.0 | 0.0 | 6 | 16.7 | 3 | 0 | 1 | 5 | 3 | 5 |
Previous Seasons

| Competition | Season |
| --- | --- |