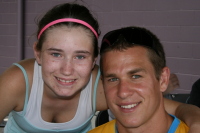 Carla
...
This competition is no longer available. It may be last season's competition. Please check your association's website.
Welcome to myRugbyLeague - It's great to have you on board. Make sure you visit my page.

This sports log has no articles.

Name:

Carla Simpson

Sporting Interests:

Netball

Rugby League - Titans

Other Interests
Music: What music do you like to listen to?
Film: What films and film stars do you like?
TV: What do you watch on TV?
Books: What books do you like to read?
General: What other interests do you have?