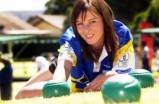 Samantha Shannahan
Hi! I'm Samantha, most people call me Sam. I am currently in the Australian Squad. I love bowls because it's different to most sports. I also love the fact that i've met a lot of nice people through b ...
MessageBoard

Welcome to myBowls - it's great to have you onboard. Make sure you visit my website to keep up with my latest news, videos and photos. Did you know you can add Fixtures, Results and Ladders from any SportingPulse website to your myBowls website? Click on the link below to search for your team:
http://www.sportingpulse.com/search.cgi.
Please leave me a message - it would be great to hear from you.