11:36AM, Wed 16 September 2009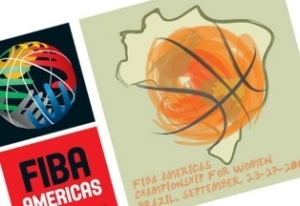 GENEVA/SAN JUAN (2009 FIBA Americas Championship for Women) - FIBA Americas, in cooperation with FIBA, would like to announce the launching of brazil2009.fibaamericas.com, the official website for the 2009 FIBA Americas Championship for Women to be held in Cuiaba, Mato Grosso, Brazil from September 23-27.
brazil2009.fibaamericas.com will have all the details about the event who qualifies the best three teams for the 2010 FIBA World Championship for Women. This website will have live stats, news, photos, interviews, reports and previews. You can also follow your favorite team and players with stats, news and pictures during the event.
The 2009 FIBA Americas Championship for Women will be played at Aecim Tocantins Arena and will have eight of the best national teams in America.
The eight participants were divided into two groups of four teams each. Group A has Brazil, Canada, Dominican Republic and Puerto Rico. Group B features Argentina, Chile, Cuba and Venezuela.
FIBA Americas organizes this event every two years and are qualifiers for Olympics and FIBA World Championships.
Comments
View all
Report