05:45AM, Thu 24 November 2011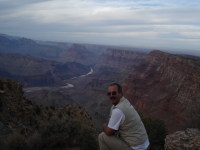 Leaving ONOC was a very difficult thing to do. Having worked so long in the Region and established a good sized 'comfort zone' the last thing a man at my time of life would be wanting to do is change careers.
Still circumstances dictate sometimes that it is better to be uncomfortable than maintain a position that is untenable. So it was off to the UK for me and an attempt to find work in the competitive arena of sport and in particular, attempt to do something I always wanted to do towards the end of my career. TEACH....
I hadn't counted on the incredible 'glass ceiling' that hangs over so called 'senior citizens'. Not being interviewed for jobs that I could do in my sleep was a real awakening but then understanding that why would 30 somethings want someone as intimidating as a 50 something working for them.
Thanks to the patience and support of some very close friends I was able to finally secure a contract for three years at the University of Kent as a Lecturer in Sport and Fitness Management. Its a great campus that wants to make a difference and produce excellent graduates so I know I am going to enjoy this.
Working in the Olympic Movement was special and came with lots of perks but nothing beats the challenge of a new endeavour and the opportunity to do something new. One thing for sure is that ONOC and the Olympic Movement will move on just fine without me just as I will without them.
Comments
View all
Report