10:55AM, Sat 2 April 2011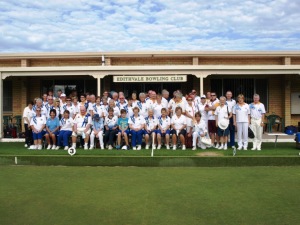 In a day of high humidity, bowlers of less than 3 and a half years experience came to Edithvale to try out their skills as newish bowlers and to get the feel of competition amongst their peers. 36 teams entered.
There were teams from; Hampton, Cheltenham, Frankston RSL, Mornington Civic, Mornington, Carrum, Bentleigh, Karingal, Mordialloc, Parkdale, Hampton RSL, Keysborough, Mentone, Narre Warren and St Kilda.
The format was 9 ends of 2,2,2,2, then 2, 4, 2 followed by 2, 2 and prizes were awarded for the Winner, Runner Up and Third Best performed (10 Points for a win/5 for a draw then a point for each end won, then it was down to shots up) and for Best 1st, 2nd, and 3rd game winners (shots up). The 2 youngest bowlers Anthony Cameron and Lachlan Templeton received a presentation pack from Keith Ronaldson's "Bayside Jack High Bowls". A $25 car wash voucher was also presented to a lucky competitor for being in the "right seat at the right time".
Sponsors were Mark Dreyfus M.P. (Labour Minister), Keith Ronaldson of Bayside Jack High Bowls, Ken Planner of Rapid Wash car wash and me.
Winners were:
Winners, Sue and Steve Taylor of Mornington Civic. 49 Points.
Runners Up, Trish Comerford and Ian Wilding of Edithvale. 47 points (23 shots up)
3rd Place, Andrew Benson & Trish Eastwood of Edithvale. 47 points (21 shots up)
Coming in next were teams in the name of Burke and Wardle (both of Edithvale) at 46 points... bad luck but excellent bowling!
Best 1st game was Carolyn Burgess and Frank Williams.
Best 2nd game was Pam Longley and Malcolm Moon.
Best 3rd game was Michael Cameron and Sally King.
Comments
View all
Report