04:36PM, Mon 13 December 2010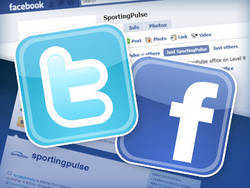 You can now follow SportingPulse on both Facebook and Twitter!
SportingPulse has recently launched its new Facebook and Twitter pages to further promote grassroots sports, as well as to allow our users to better engage with their local sporting clubs and associations.

We will be tweeting and posting Facebook messages about things like our GameDay news items, partnership announcements, competitions,
sporting events of interest and grassroots sports news, as well as communicating our network (product and partnership) announcements.

Tweet and Like your own club/league news:
In conjunction with the launch of these pages, we have also recently introduced 'Like' and 'Tweet' functionality throughout the SportingPulse Network (i.e. club, league and association) websites.
This will enable all users to promote and drive their friends and followers back to their club sites, including being able to tweet and like news items, photo galleries, results and stats of interest.
We look forward to seeing many of you out there in social media land in the near future - feel free to share your thoughts by commenting on this article below, or you can drop us a line on Facebook or Twitter!
Comments
View all
Report