11:07PM, Mon 30 August 2010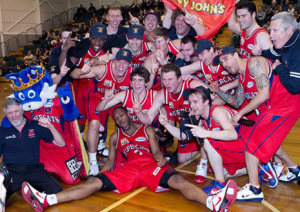 What a great achievement by the Geelong Supercats defeating a gallant Bendigo Braves for the SEABL Championship at MSAC on Saturday night in front of a big crowd that really enjoyed the occasion. Congratulations especially to the whole Supercats organisation for showing itself as a class outfit both on and off the court. This game reflected more than just a winning attitiude, against the odds if you take into account the facts that the team had many changes from last season, a new head coach and several tough losses to start the season. Yet this team of selfless players, its dedicated coaches, hard working management, visionary committee and its loyal group of supporters presented themselves in a manner that displayed sportsmanship and the desire to achieve at the highest level possible.
Sitting in the crowd during the final it was interesting to note the difference in the way both teams and their passionate fans were percieved by those nuetral observers among those present. I was proud in deed to be a Geelong basketball person and supporter of our boys who played it tough and hard, but fair at the same time. No better example was shown on the night than the modestly professional and well orcastrated Supercats official cheerleaders who, although much younger than their counterparts, portraide themselves in a manner so endearing to all those present they were often marvelled at by the opposition cheer leading girls and their efforts were much appreciated by all those in attendance.
The only disappiontment for me occured when I returned to Geelong to eagerly await the local news paper which I was surely looking forward to seeing at least a two page spread with several photos and a story worthy of the achievement observed two days prior. Alas this was not to be as the Advertiser saw fit to cover page upon page of football, both local finals results and of course the AFL. Basketball, often the poor cousin was once again treated to a single page article with just two pictures and what can only be described as a cover story that leaves those who marvelled at the season now behind them wondering what the second highest level of sport played in the city needs to do for decent recognition.
While AFL football was covered on the front page, the back page and football in general was covered in about 20% of the whole paper, local basketball achievements which included a stirring win by our own Geelong Lady Cats on the same night at the Arena in Geelong (Not one picture afforded to this in Monday's Advertiser) was covered in a few paragraphs next to the Supercats article on the same page.
Well done also to our wonderful Lady Cats team who represented Basketball Geelong in a winning season of Championship basketball, a wonderful achievement from our girls, playing in a very tough competition!

Basketball itself is recognised world wide as 'The other World Game' second only to international football refered to as Soccer by countries like our own. Basketball has recently been described as the highest junior participation sport in Victoria, yet it constantly seems to end up as an ingloriously represented and lowly rated news item in comparison to other sports. What a shame...

Comments
View all
Report