09:06PM, Sat 2 January 2010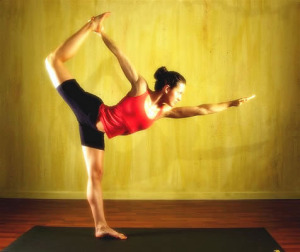 It's been just over a year now since i finally took heed to the doctor's advice and gave up all forms of running. I thought at the time that i'd probably now just get fat and wither towards joint replacement surgery.
The surgery may still be on the cards eventually but the other expectation isnt likely to happen any time soon (at least not in the next 29 days anyway).
After the doctor told me basketball and all forms of running were a no-go we started discussing other forms of exercise (after i picked up my heart off the ground), ie swimmig, bike riding etc. All good stuff. Then he says "actually i know the perfect thing for you - bikram yoga. It's yoga in a really hot room and is great for your joints and flexibility, there's one in Glen Waverley".... or something along those lines. I had never heard of it at the time so shortly after i went to check it out.
I was a little uncertain leading up to my first class. The usual thoughts entered my mind that one would expect with such an experience - what if i fall over? what if i pass out? what if they make me do crazy stuff...? As loud as these thoughts were in my mind, they were helplessly drowned out by the ticking sound of the biological clock on my hips, hence the questions were irrelevant, it was time to bite the bullet. In short, the first class was the most difficult session of exercise i've ever experienced, and most importantly, after the class i felt absolutely terrific. Why did it take me so long to discover this thing?
12 months on and i havent looked back (technically i guess i am right now but let's not get technical), making it to roughly 3 classes per week (except when out of town), and slowly the ship is turning. My posture is better, i generally have less aches and pains, my core strength has improved dramatically (after not doing a single bench press in over a year i lifted more than i ever have over chrissy) and my hips are marginally better than they were 12 months ago. Another good effect is that i'm challenging myself every class because it never gets easy. It's no stroll in the park, so to speak. Oh and u probably burn close to 1,000 calories per class (if u put in).
So what is this form of yoga you may ask? It's basically 90 minutes of stretches and strengthening postures in a really hot room. Read here for more http://bikramyogagw.com.au/home.htm. Anyone can do it.
So what's the 31 days of torture? Basically i'm doing 31 classed in 31 days. Today i completed my 2nd class, so it's quite a daunting prospect but i know it wont kill me and if i complete it successfully i'll feel great and will have achieved a significant goal/challenge.
How do intend to achieve this goal?
1. Eat a lot of good food every day. Lots of vitamins, minerals, protein, carbs, magnesium, potassium, salt (himilayan sea salt was recommended to me by a bloke at today's class as it has more minerals), and all that stuff. No rubbish, i've done that enough to know it will come back to bite me, ironically.
2. Get plenty of rest.
3. Drink water basically all the time except when sleeping.
4. Electrolytes after class, and not that crappy Gatorade stuff, real electrolytes and lots of them.
5. Minimise all other forms of exercise. I tried swimming the same day of a class on thursday and it was a BAD move.
There's a chart up on the wall at the studio with 31 boxes next to the names of everyone attempting the challenge (10 or 12). So far i have 2 smiley faces in the first 2 boxes. A clean sheet so to speak. Let's keep it that way :)
Comments
View all
Report