04:04PM, Thu 12 November 2009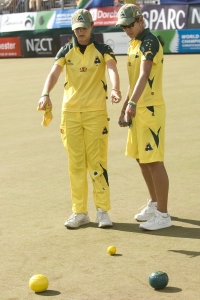 It feels like ages since I last blogged and a lot has happened during that time.
For starters, I'm off to the Hong Kong Classic in less than a fortnight to compete alongside Julie Keegan, Mick Cronin and Leif Selby and it should be a great event.
Jules and I get to play pairs together, as well as singles, and the field will be world class.
I haven't seen the final list, but I do know world number one Val Smith is competing, as is former Australian Open champion Siti Zalina Ahmad from Malaysia, so we'll have to be at the top of our game if we're going to feature in the finals.
While the bowls should be great, Jules and I are also looking forward to hitting the shops, which should be a real highlight!
A little closer to home and I'm about to undergo somewhat of a sea change.
Having played pennant for St John's Park in NSW last season, I've decided to move there on a permanent basis from the start of next year, so I will be packing my bags and moving south.
I've never lived in Sydney before but it should be a great experience and St John's is a terrific club.
It's a little bittersweet; however, as I've really enjoyed my time at South Tweed, which is a great club in its own right, and I'm sure I'll end up back in Queensland one day.
Nonetheless it's a new challenge and one I'm looking forward to.
A few people have asked me how I would feel pulling on the NSW strip if I was lucky enough to be selected and I haven't given it too much thought, but I'm sure it would be a strange feeling competing against Queensland, which has given me so many opportunities.
Back on the green and I'm currently trying to qualify for next year's Australian Open in the pairs alongside Beth Quinlan.
Having captured last year's singles title I'm fortunate enough to have direct entry, but I still need to qualify for the remaining disciplines, but lucked out earlier this week in the triples.
Beth and I are drawn to meet Kay Moran and Margie Smith later today, so fingers crossed we have a win and then I'll only have to qualify for the triples in Bendigo on the eve of the AO in February.
Well that's it for now but I'll be sure to keep you up to date while I'm in Hong Kong.
Good luck on the green!
Kelsey
Comments
View all
Report