05:26PM, Tue 10 November 2009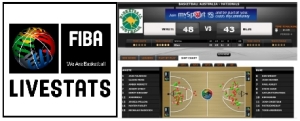 Online fan support for the National Basketball League (NBL) is stronger than ever according to figures released today by Basketball Australia (BA). After the first full month of the new season, the NBL's LiveStats offering saw 54,031 unique browsers generating 7 million page impressions for the month of October. During the same period in 2008, 32,663 unique browsers generated 3.38 million page impressions when viewing LiveStats.
Today's figures represent an increase of 65 per cent in unique browsers and a 108 per cent increase in page impressions. The NBL uses the FIBA LiveStats system developed by SportingPulse, which is in use with over 20 professional leagues around the world, delivering scores and statistics to fans in real time as well as play-by-play analysis and shot charts.
Basketball Australia Chief Executive Larry Sengstock said the reliability of the FIBA LiveStats system, which was developed for the sport's international governing body, had played a large role in building trust with NBL fans and was being reflected in the increase in online audience. Sengstock was delighted with the results and indicated greater numbers will follow in the future.
"There is clearly a strong fan base for our elite men's league and to see such strong increases in numbers for a pre-existing online feature is extremely encouraging," Sengstock said. "It reinforces the underlying interest in basketball and strengthens our resolve to continue with the reformation agenda. The positive support for the NBL is also reflected in significantly greater media coverage and increased spectator figures for the same time last season. "The inclusion of teams from Sydney and Brisbane next season will almost certainly see these numbers continuing to increase."
The marked rise in online traffic for the NBL's LiveStats feature comes on the back of other good news for Basketball Australia. After a reform of the sport was completed in November last year, BA has secured new sponsorship agreements for the NBL as well as the men's and women's national teams, the Boomers and Opals. BA has also worked with SportingPulse to consolidate the database of the more than 600,000 participants in the sport of basketball.
"Implementing a knowledge management system is key to providing accurate data about the demographics and value of our sport," Sengstock said. "It provides potential sponsors with focussed access to our members and we are a long way down the path to leading the industry with the quality of data we can access. "We're heading in the right direction which is great for Basketball and bodes well for the sport as we head into a World Championship year in 2010," Sengstock said.
Follow LiveStats on the NBL website - Wednesday to Sundays every week HERE

Comments
View all
Report