05:26PM, Mon 13 July 2009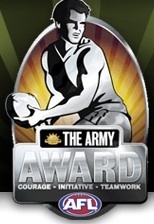 If you're involved in Australian Football or know someone who is, best you enter the Army Award competition and go into the running to win $3500 worth of equipment, plus there's a very special training session with Glenn Archer up for grabs!

It's an awesome competition and it's free to enter. Check it our at http://www.defencejobs.gov.au/armyAward/

The Army Award is a ripper. Each round you get to vote for three AFL players that best demonstrate the Army's values of Courage, Initiative and Teamwork on the field. Besides the main prize, you can also win some great weekly prizes, like signed jumpers, posters and Sherrin Footballs. The main prize is an awesome Army experience and you can even win tickets to the AFL Grand Final.

Enter here;

http://www.afl.com.au/Competitions/army/index.aspx

Anyway, get into it and join in the fun. The Army is a fantastic supporter of AFL football. Good luck and here's hoping you score a win this week!


Comments
View all
Report