11:47AM, Wed 10 June 2009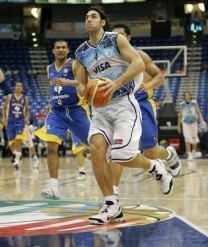 SAN JUAN (2009 FIBA Americas Championship) – FIBA Americas, in cooperation with the Puerto Rican Basketball Federation, hosted the draw of the 2009 FIBA Americas Championship.
The 2009 FIBA Americas Championship will be played at Roberto Clemente Coliseum in San Juan, Puerto Rico. Ten of the best national teams will be and the top four qualify for the 2010 FIBA World Championship to be played in Turkey.
Please find below the result of the draw, as well as the complete event schedule.
Composition of Groups:
Group A: Canada, Uruguay, US Virgin Islands, Mexico
Group B: Brazil, Venezuela, Dominican Republic, Cuba
Event schedule:
Preliminary Round:
August 26:
US Virgin Island vs. Uruguay
Venezuela vs. Argentina
Mexico vs. Puerto Rico
Dominican Rep vs. Brazil
Free/Libre: Canada and Cuba

August 27:
Canada vs. Mexico
Cuba vs. Dominican Rep
Puerto Rico vs. US Virgin Island
Brazil vs. Venezuela

Free/Libre Uruguay and Argentina

August 28:
Uruguay vs. Puerto Rico
Argentina vs. Brazil
US Virgin Island vs. Canada
Venezuela vs. Cuba

Free/Libre Mexico and Dominican Rep

August 29:
Mexico vs. US Virgin Island
Dominican Rep vs. Venezuela
Canada vs. Uruguay
Cuba vs. Argentina
Free/Libre Puerto Rico and Brazil

August 30:
Puerto Rico vs. Canada
Brazil vs. Cuba
Uruguay vs. Mexico
Argentina vs. Dominican Rep
Free/Libre US Virgin Island and Venezuela
*The order of the games and times will be announced later.
*Puerto Rico has the right to select their final opponent in the first round (Canada).
Second Phase (1-4 of September)
Before the beginning of the second phase, the local team (Puerto Rico) will again have the right to select the order of game days for the second phase. After the second phase all eight teams are ranked in one group and the top four teams Qualify for the semi-finals.
Semifinals (September 5)
The first place team faces the fourth place and the second faces the third team in the quarterfinal standings. The winners play for gold and losers for bronze in the finals.
Finals (September 6)
Comments
View all
Report