04:55PM, Fri 29 May 2009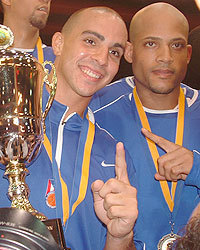 SAN JUAN (2009 FIBA Americas Championship) – After the FIBA Americas Executive Committee decided to retire Mexico as host of the 2009 FIBA Americas Championship, which is a qualifier for the 2010 FIBA World Championship in Turkey, a process started to find another country interested in being the organizers of the most important continental competition.
Last night after an important meeting with Puerto Rican Basketball Federation President, Ruben Nigaglioni, an agreement was reached to be the organizer of the tournament.
The event will be held at Roberto Clemente Coliseum who was the host of the 1999 and 2003 FIBA Americas Championships. The Puerto Rican Federation has a lot of experience having this type of event and the 2009 event will be played from August 26 to September 6 in San Juan and the top 4 teams enter the 2010 FIBA World Championship.
FIBA Americas Secretary General, Alberto Garcia, was very grateful to the Uruguayan Federation who was also interested in the event and specially to the Puerto Rican Federation who will organizze the most important continental championship. After an evaluation of the technical, commercialization, television, and other important aspects that will guarantee a competitive and economical success, it was decided to give the Puerto Rican Federation the tournament.
This event has Argentina, Brazil, Uruguay and Venezuela for the South American Sub-Zone (ABASU), Canada for North America and for the Central American and Caribbean Zone (CONCENCABA), Cuba, US Virgin Islands, Mexico, Dominican Republic and Puerto Rico. The United States qualified for the 2010 FIBA World Championship after winning the 2008 Olympics in Beijing.
Puerto Rico has been host of a World Championship qualifier in 1993 where they won Silver. They were also host to three Olympic qualifiers starting in 1980 and also in 1999 and 2003 where they won a medal in two competitions (Gold in 1980 and Bronze in 2003).
The last FIBA Americas Championship (World Qualifier) was played in 2005 in the Dominican Republic where Brazil won Gold, Argentina Silver and Bronze for Venezuela. The last FIBA Americas Championship was the Olympic qualifier in 2007 held in Las Vegas as the United States dominated the whole tournament to capture the gold medal.
Comments
View all
Report