08:46PM, Tue 12 May 2009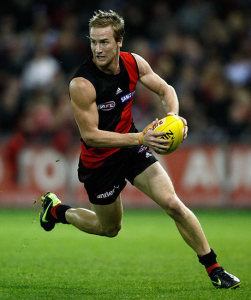 Those with a green thumb will know this saying about newly planted Bamboo:
The first year it sleeps
The second year it creeps
The third year it leaps
So, what's this got to do with football? So much is expected of new recruits straight from the National Draft these days. The pressure is on these kids from day one, and for many of them, 2 seasons in the system with few or no senior appearances under the belt can mean being delisted and a the dream of being a professional footballer can be over before it's begun. Players such as Chris Judd and Joel Selwood, who step in from day one and play like 100-gamers are all too rare, but these guys are the standard for which all kids are now being measured. If it was that easy, then surely every youngster would be able to do it?
Patience can be a virtue, and the Essendon Football Club is now reaping the rewards for sticking by a group of 3rd and 4th year players who spent their first year sleeping, 2nd year creeping and are now leaping and proving to be a major driving force in the Bombers impressive start to 2009.
COURTENAY DEMPSEY (21 years old, 4th season)
Finally Bomber fans are seeing a return on the investment shown in the super-quick Queenslander. With a Rugby background, he was always going to take time, but constant injuries to his light frame had many questioning whether he could make it at the highest level. Dempsey has played all games thus far in 2009 off the half-back flank and generated plenty of run and rebound in the new-look Bomber defence. He's no one-trick pony either, combining defensive dash with accountability for his direct opponent, courage to back into packs and assist teammates and also bobbing up with the occasional goal. Suddenly, the decision to trade Ted Richards to Sydney for the 1st round selection that nabbed Dempsey looks a sound one.
HEATH HOCKING (21, 3rd season)
The strong-bodied midfielder from Mooroolbark is quietly establishing himself as the side's chief stopper in the absence of Andrew Welsh. A rookie list selection from 2007, Hocking has done it the hard way, but at 187cm and 92kgs, he's hard to shift off the football, burrows in the packs, has a clean set of hands and a neat left foot. Last night he shut out fellow former Mustang Sam Mitchell out of the game whilst compiling 18 quality possessions and snapping a clever goal. With the retirement of hard nuts Jason Johnson and Damien Peverill, 'Bhudda' looks set to take over from where they left off.
SAM LONERGAN (22, 4th season)
Possibly the best example of my "Bamboo Shoot" analogy. With just one senior appearance in his first two seasons, Lonergan may well have been delisted by a new coach with a mandate to take a broom to the playing list at the end of Kevin Sheedy's 27-year reign. Luckily Matthew Knights background as coach of Essendon's VFL affiliate the Bendigo Bombers paid dividends in retaining the gutsy Tasmanian. The "leap" came last season, with Lonergan playing 19 games in the Bomber engine room, displaying an innate sense of winning the contested ball, ability to stand in the tackle and feed off with handball to the outside runners. Add to that crisp foot skills and an eye for the goals and it's easy to see how Sammy's become a firm favourite with both fans and the coaching staff at Windy Hill.
RICKY DYSON (23, 6th season)
Something of a maligned figure amongst Essendon supporters, Dyson has shown fleeting glimpses of what he has to offer since making his debut way back in 2004. In and out of the side under Kevin Sheedy, he's become more of a permanent fixture under Matthew Knights and it's only now that he's starting to believe in his ability. The turning point might be this year's ANZAC Day game. Originally omitted from the team, Dyson was a late inclusion for the injured Mark McVeigh and made the most of his reprieve with perhaps his best performance in red and black. 27 disposals and 2 goals, the 2nd a brilliant set-shot hard up on the boundary late in the last term was instrumental in the thrilling, last-gasp win over the Magpies. Finally, the skilled left-footer looks at home in the Bomber line-up.
JASON WINDERLICH (24, 7th season)
The "Bamboo Shoot" that has taken the longest to flourish, but is perhaps reaping the greatest returns. Winderlich, a top-end selection (pick 11) from the 2002 draft, has struggled with a long line of injuries ranging from shin splints, hamstring complaints, a broken leg and most recently a back ailment that looked set to end his career as recently is December last year. Despite missing a large slab of the pre-season, the speedy midfielder has not missed a game in 2009 and has been among the Bombers best players, averaging over 20 disposals with his blistering pace breaking the lines. Six goals to his name also shows that he's a viable threat in front of goals. 'Licha' is also a popular clubman and an ambassador for the Bill Hutchison foundation supporting underprivileged youth in regional Victoria.
Comments
View all
Report