04:20PM, Tue 5 May 2009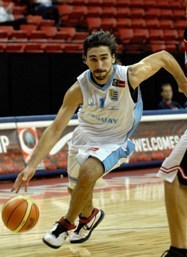 PONCE (2009 FIBA Americas Championship) – Uruguayan point guard Martin Osimani talked about the expectations for the Uruguayan National Team for the 2009 FIBA Americas Championship (World Qualifier) that will be played in Mexico from August 26 until September 6.
After winning the second title in a row with Bigua, the guard of the Uruguayan national team was signed by Atléticos de San Germán in Puerto Rico where he averages 10.13 points, 4.8 rebounds and 4.6 assists in his first eight games.
Osimani, who made his debut with the junior national team in 1998, talked about the expectations after a good FIBA Americas Championship in 2007 but he is also worried about the current situation in Mexico.
"Everybody is waiting to see what happens with the swine flu. We are nervous but in Uruguay there are a lot people wanting to start the preparation because there are a lot of expectations after the 2007 tournament where we had a good showing."
Uruguay finished second in Group A of the 2007 FIBA Americas Championship with a 3-1 record. Their only loss was against Argentina and defeated Puerto Rico, Mexico y Panama. Then in the second round they lost to Canada, Venezuela, USA and Brazil to finish eighth and out of the Olympics.
"We were short because of injuries and this year we will look to extend the team so we son't be tired at the end of the championship", said the guard, explaining one of the factors for their bad performance in the second round.
Uruguay has seen the development of players like Leandro García Morales, Esteban Batista, Gustavo Barrera, Jayson Granger in the last couple of years and is expected that they make an immediate impact in the national team for international competitions. Also veterans like Nicolas Mazzarino might join the team.
"This is what everybody is waiting for to see what we can do better. We are waiting for Nicolas Mazzarino to see if he comes back after he retired but we know that the new players are having great seasons abroad and we have a lot of expectations to improve."
Part of the development of these players has been the Uruguayan League where Osimani, Leandro García Morales, Esteban Batista, among other have played.
"The level has improved, also the level of the imports has improved a lot and the players who play overseas are present. They have to improve the organization to be an elite league but it has improved and been worked a lot."
Bigua had their best season in history, winning their second straight title in Uruguay but at the international level they won the South American Championship for Clubs and played in the Final Four of the FIBA Americas League.
Osimani, who played in the United States in Utah and Duquesne University, is concentrated to have a great season with San German which is the one with the most tradition with 14 championships.
"I hope to have a great culmination with San German. We had our ups and downs."
Finally Osimani wants to play for Uruguay and give them their first FIBA World Championship since 1986.
"There are a lot of expectations for this tournament and I can't wait to play."
Osimani y Uruguay con expectativas para Campeonato FIBA Américas:
PONCE (Campeonato FIBA Américas 2009) – El armador uruguayo Martín Osimani habló sobre las expectativas de la selección de Uruguay para el Campeonato FIBA Américas 2009 (Premundial) que se jugará del 26 de agosto al 6 de septiembre en México.
Luego de ganar el segundo campeonato seguido con Biguá, el armador de la selección de Uruguay fue firmado por los Atléticos de San Germán en Puerto Rico donde promedia 10,13 puntos, 4,8 rebotes y 4,6 asistencias en sus primeros ocho partidos.
Osimani, que debutó con el equipo nacional juvenil en el 1998, habló de las expectativas luego de un buen Campeonato FIBA Américas en el 2007, pero preocupado por la situación actual de México.
"Esta todo el mundo expectante con lo que pasa con esto de la gripe porcina. Estamos nerviosos pero en Uruguay hay muchas ganas de que se empiece la preparación porque hay muchas expectativas después del torneo de 2007 que hubo una buena participación."
Uruguay terminó segundo en el Grupo A durante el Campeonato FIBA Américas con marca de 3-1. Su única derrota fue ante Argentina y triunfaron ante Puerto Rico, México y Panamá. Luego en la segunda ronda cayeron contra Canadá, Venezuela, Estados Unidos y Brasil para terminar octavos y fuera de las Olimpiadas.
"Estuvimos bastante cortos por lesiones y este año vamos a buscar extender el equipo para no estar tan cansados al final del campeonato", dijo el armador, explicando uno de los factores de la mala actuación de Uruguay en la segunda ronda.
En los últimos años Uruguay ha visto el desarrollo de jugadores como Leandro García Morales, Esteban Batista, Gustavo Barrera, Jayson Granger y se espera que sean de impacto inmediato para el equipo uruguayo en competencias internacionales. También se espera que varios veteranos regresen como el caso del tirador Nicolás Mazzarino.
"Eso es lo que tiene a todos expectantes para ver que se puede hacer mejor. Estamos esperando a ver si Nicolás Mazzarino vuelve a jugar ya que se había retirado pero sabemos que con los nuevos jugadores que están jugando buenas temporadas afuera tenemos muchas expectativas para mejorar."
Parte del desarrollo de los jugadores se debe al buen nivel de la Liga Uruguaya donde ha jugado Osimani, Leandro García Morales, Esteban Batista, entre otros.
"El nivel ha mejorado, el nivel de los extranjeros ha mejorado mucho y los jugadores nuestros que vienen de afuera están presentes. Tienen que mejorar el punto de vista de la organización para ser una liga elite pero se ha mejorado y trabajado bastante."
Biguá tuvo su mejor temporada en la historia, ganando su segundo campeonato seguido pero a nivel internacional demostraron el buen nivel de la liga ganando el Sudamericano de Clubes Campeones y jugando en el Final Four de la Liga de las Américas.
Osimani, que jugó en Estados Unidos en las Universidades de Utah y Duquesne, está concentrado en tener una buena temporada con San Germán que es el equipo de más tradición en el baloncesto de Puerto Rico con 14 campeonatos.
"Espero tener una buena culminación con San Germán. Hemos empezado un poco arriba y abajo."
Finalmente Osimani tiene muchas ganas para darle a Uruguay su primera visita al Mundial desde el 1986.
"Muchas expectativas para este torneo que tengo muchas ganas de jugarlo."
Comments
View all
Report