10:39AM, Sun 3 May 2009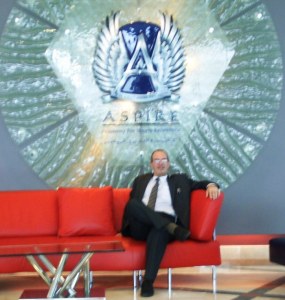 After MEMOS Module three, held in Amman in Jordan, how could one not go and pay a visit to ASPIRE in the Emirate of QATAR.
ASPIRE is arguable one of the very best sports training centres in the world that boasts the finest in sports training facilities and technical support progams for a junior oriented sport development program that aims to produce champions. Using advanced methods of Talent Identification, it places emphasis on the holistic development of young athletes and uniquely targets psychomotor abilities as well as the usual physical and skill development required for high level sports performance.
As a 'live in' facility, living and accommodation is very impressive with hotel quality facilities and support. Athletes can share a spacious apartment that comes with TV and internet facilities, en suite and supported by excellent entertainment and areas for relaxation as well as a first class food service, of course tailored for young active people by dieticians. Sadly in one sense the emphasis on this facility is Football, but programs are conducted in athletics and in selected other sports. ASPIRE also hosts daily activity programs for the public at large and reaches our to Qatari schools by making their facilities available for daily physical education programs. Public programs are also conducted and are heavily subsidised by government to encourage Qatari people to embrace sport and physical activity. This in itself is quite inspirational.
ASPIRE also hosts a specific women in sport facility and Ladies health and fitness club where women can relax and enjoy their sport away from the prying eyes of men, somewhat of an issue in these Arabic muslim nations. What really takes your breath away is the sophistication and quality of the programs remembering that Qatar has a population the size of Fiji but that with their borders they have more quality sport facilities that the Pacific Region put together!
The Qatar Olympic Committee employs around 500 people and has an office with 27 floors in the centre of town. ASPIRE and the QOC officially cooperate closely on all sport programs but like all large organisations, there are issues between them that inevitably create problems. The QOC however has overall responsibility for sport development in Qatar and in itself is rather impressive, employing more people that our combined 15 Pacific NOC's and controlling immensely more assets than all of us combined. Qatar sent 47 athletes to Beijing but did not win a medal, but every Games they get closer and closer to achieving this goal. It does make us wonder why on earth we think we can produce Olympic Champions on a shoe string. But then we do have talent! Perhaps one day we might be able to access this wonderful facility and take advantage of the excellent facilities and in particular the cultural/life experience that would come with living in Qatar.

It is indeed another world.....
Comments
View all
Report