04:43AM, Thu 16 April 2009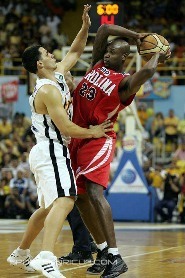 The 81st season of Baloncesto Superior Nacional of Puerto Rico starts on April 17 and it is expected to be another interesting outing with eleven teams.
Unlike many countries, basketball in Puerto Rico is the first sport, followed by baseball and close behind is soccer which is gaining a lot of popularity lately due to the Puerto Rico Islanders in the USL. Volleyball is first in small towns but last in most big cities.
There are six teams that today have a chance to reach the finals and they are Arecibo, Bayamon, Carolina, Guaynabo, Ponce and Santurce. San German and Quebradillas will be fighting with the other teams to enter the playoffs which qualify the eight best teams.
Arecibo is the team who is better prepared for this season having played in Nicaragua, Brazil, St. Croix, Netherlands and in the FIBA Americas League. Their import is Marcus Fizer who literally carried them into the finals. This time Fizer is not fully recuperated from his knee injury but this team is better and is the defending champion. Also for the first time they will have a good starting center in Jeff Aubry who has been the league's best defensive player many times.
Bayamon comes in with better perimeter players, signing Christian Dalmau who is one of the top guards in the league along with Javier Mojica who had a great summer with the national team. They also signed one of the best pure point guards in the league in Orlando "Guayacan" Santiago, who is also a great clutch shooter.
Carolina lost the finals in seven games and their biggest blow came when center Chris Burgess went out with an injury at the start of the series. This season they will repeat Ebi Ere who is a winner and a consistent player in this league and also added depth to their bench. Carolina has one of the best guard combinations in Filiberto Rivera and Alejandro Carmona while Angelo Reyes is the best power forward in the league.
Guaynabo signed Lee Benson, probably one of the best imports in the history of the league. Their second import is Gabriel Muoneke who has been an impact player since he came with Santurce and then guided Coamo to their only finals appearance. If they can resolve their dispute with Carmelo Lee and also have good minutes from their point guards they can be a force in the playoffs.
Ponce traded Jeff Aubry and Wilfredo Pagan for Bobby Joe Hatton, who just came from winning the title with Arecibo. Hatton had his best years with Ponce being the MVP and won two titles (2002 and 2004). Hatton is the face of the franchise after the departure of Joel Jones. Ponce also added Ricky Melendez who was the league's best scorer. They have good prospects on the bench with Jorge Lebron and Raul Orta. Leones have a dispute with Ricky Sanchez and if he can play Ponce will have a good frontcourt that already has Nigel Dixon, Lee Nailon and Gabriel Colon.
Santurce always builds great teams and since the retirement of legend, Jose "Piculin" Ortiz, they will have a native starting at center. Manuel Narvaez is the new hope for Santurce and maybe the national team. Narvaez started in Coamo during the 2007 season and despite having back problems he averaged 14.07 points and 13.9 rebounds. If he can play at that level, Santurce will have another great year. Ed Nelson will be the import until Josh Davis arrives. Larry Ayuso, Sammy Villegas, Rick Apodaca, Miguel Berdiel and Eddin Santiago complete an impressive backcourt.
San German continues adding international flavor to the tournament by signing Uruguayan guard Martin Osimani and Argentinean center Ruben Wolkowisky. Last season San German had Venezuelan Richard Lugo and Mexican Victor Avila. The addition of Osimani is key for Omar Alvarado who began last season as the point guard but wasn't consistent in his production. Jesse Pellot-Rosa is another player who hopes to have a great year.
Quebradillas will have center Peter John Ramos since day one and they will be a contender. In the 90's and early in this decade Quebradillas was a contender in the league but due to economic problems they had to stop playing a couple of years ago. They also have Joel Jones, Marcus Williams, Richie Dalmau and veteran Ian Lockhart and Orlando Vega.
Mayaguez, now coached by former national team player Eddie Casiano, will depend on their young players and imports like Kevin Hamilton, Ramon Clemente, Paul Graham, Dan Langhi and Keenan Jourdon. Meanwhile Caguas hopes to have Angel Daniel Vassallo along with Darnell Hinson, Matt Freije and Garnett Thompson.
Finally Humacao has league MVP Ansel Guzman who will have to carry the team along with James Life and imports Jason Edwin and Trent Plaisted. Roberto Nieves will not play this season after he signed with Guaros de Lara in Venezuela.
This season is dedicated to the Puerto Rican Basketball Federation President, Hetin Reyes and starts on April 17.
Comments
View all
Report