06:51PM, Fri 27 March 2009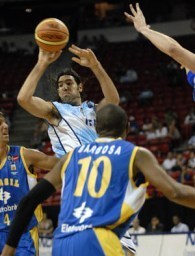 SAN JUAN (2009 FIBA Americas Championship) – During this week FIBA Americas held a meeting with the organizing committee of the 2009 FIBA Americas Championship that will be held in Mexico City and Mexicali from August 26 until September 6.
In the meeting the authorities of FIBA Americas along with the organizing committee outlined the work to be done for the tournament that includes marketing, promotion, and logistics among other important issues. This tournament gives four qualifying berths for the 2010 FIBA World Championship to be played in Turkey.
Group A of the competition and the next rounds will be played at Palacio de los Deportes in Mexico City which has a capacity for 18,000 fans. Group B of the competition will be played at Auditorio Municipal of Mexicali.
The participating countries in this competition are Argentina, Brazil, Canada, Cuba, Dominican Republic, México, Puerto Rico, Uruguay, US Virgin Islands and Venezuela. The United States will not participate since they already qualified into the 2010 FIBA World Championship by winning the Gold Medal in the 2008 Olympics.
The ten national teams will be divided into two groups of five teams each and will play the preliminary round from August 26-30. The draft of both groups will be done in Mexico on April.
The best four teams per group enter the quarterfinals where they will play four games against the teams that entered from the other group. The quarterfinals are scheduled from September 1-4. The best four in the standings at the end of the quarterfinals will qualify into the FIBA World Championship and the semifinals. The semifinals are going to be played on September 5 and the finals the next day.
FIBA Américas - Siguen los trabajos para el Campeonato FIBA Américas:

SAN JUAN (Campeonato FIBA Américas 2009) – Durante esta semana FIBA Américas celebró una reunión con el comité organizador del Campeonato FIBA Américas 2009 que se celebrará en Ciudad de México y Mexicali del 26 de agosto al 6 de septiembre.
En la reunión las autoridades de FIBA Américas junto al comité organizador delinearon los trabajos para el torneo que incluyen mercadeo, promoción, logística, entre otros asuntos importantes. Este torneo clasifica a los mejores cuatro equipos al Mundial 2010 a celebrarse en Turquía.
El grupo A de la competencia y las siguientes rondas se jugarán en el Palacio de los Deportes de Ciudad México que cuenta con capacidad de 18,000 fanáticos. El grupo B de la competencia se jugará en el Auditorio Municipal de Mexicali.
Los países participantes en esta competencia son Argentina, Brasil, Canadá, Cuba, Islas Vírgenes (US), México, Puerto Rico, República Dominicana, Uruguay y Venezuela. Estados Unidos no participará en este evento al tener su pase directo al Mundial luego de ganar la medalla de oro en las Olimpiadas del 2008.
Estos diez equipos nacionales se dividirán en dos grupos de cinco cada uno y jugarán del 26 al 30 de agosto. El sorteo de ambos grupos se celebrará durante el mes de abril en México.
Los mejores cuatro por grupo pasan a la ronda de cuartos de final donde jugarán cuatro partidos contra los demás clasificados del otro grupo. La ronda de cuartos de final se jugará del 1 al 4 de septiembre. Los primeros cuatro en la tabla de posiciones en los cuartos de final pasan directamente al Mundial y a la semifinal. La semifinal se jugará el 5 de septiembre y la final el próximo día.
Comments
View all
Report