03:14PM, Fri 13 March 2009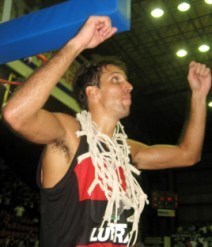 SANTIAGO DEL ESTERO (South American League for Clubs) - Flamengo Río de Janeiro won their first championship in the South American League for Clubs by beating Quimsa Santiago del Estero by the score of 98-96 in the final game of the competition.
An excellent job by shooter Marcelinho Machado was key in the win by scoring 41 points, 30 of them in the first half. In 40 minutes played the star of Flamengo shot 10-12 from three point range and 11-16 from the free throw line. The 33 year old player was named the MVP of the tournament.
The game was tough and intense from start to finish where Flamengo depended on the offense of Marcelinho in the first half while Quimsa was consistent with their great team game and using their figures on the paint to put some key players in foul trouble, among them was Rafael "Baby" Araujo.
Flamengo started the game scoring from three point range to take the lead early and a basket by Baby Araujo gave the Brazilians an 11-6 lead with seven minutes left. The host team made their adjustments on defense to force turnovers and score. The Argentinean team made a 12-0 run to take an 18-11 advantage. The lead continued increasing until they were up by ten points (30-20) but Marcelinho made five straight points to leave the first quarter 30-25.
Both teams continued to fight for the lead until a three pointer by Marcelinho gaave the Brazilians a 42-40 advantage and finished the first half up 49-48 after a couple of free throws with just seconds left. Marcelinho had 30 points, shooting 10-8 from three and 6-6 from the free throw line at halftime. Julio Mazzaro led Quimsa with 12 points.
In the third quarter Flamengo stopped depending on Marcelinho and Helio along with Jefferson were scoring to keep them on top. Vanderson along with Gabriel Mikulas didn't allow that the Brazilian to go too far and the first 30 minutes finished 72-68 in favor of the visitors.
In the final quarter Flamengo made a 7-0 run finishing with a three pointer by Duda Machado to take a 82-71 lead with 6:57 but Vanderson along with Jonatan Treise, Ramel Allen and Gabriel Mikulas helped Quimsa come back in the score.
A three pointer by Treise gave Quimsa a 94-92 lead with 1:39 left but Marcelinho answered quickly to regain the advantage. The last tie was at 96 after free throws by Mikulas but Duda made 2-4 from the line to leave the final score. Quimsa had an opportunity to tie but was missed by Mazzaro.
In the loss Vanderson Camargos scored 25 points, Julio Mázzaro 20 and Gabriel Mikulas 17.
Winners of the South American League for Clubs:
| | | | |
| --- | --- | --- | --- |
| Edition | Year | Champion | Runner-up |
| 1 | 1996 | Olimpia de Venado Tuerto (ARG) | Corinthians (BRA) |
| 2 | 1997 | Atenas de Córdoba (ARG) | Corinthians (BRA) |
| 3 | 1998 | Atenas de Córdoba (ARG) | Franca (BRA) |
| 4 | 1999 | Vasco Da Gama (BRA) | Boca Juniors (ARG) |
| 5 | 2000 | Vasco Da Gama (BRA) | Atenas de Córdoba (ARG) |
| 6 | 2001 | Estudiantes de Olavarría (ARG) | Gimnasia y Esgrima de Comodoro (ARG) |
| 7 | 2002 | Libertad Sunchales (ARG) | Vasco Da Gama (BRA) |
| 8 | 2004 | Atenas de Córdoba (ARG) | Uberlandia (BRA) |
| 9 | 2005 | Uberlandia (BRA) | Universo Ajax (BRA) |
| 10 | 2006 | Ben Hur de Rafaela (ARG) | Ribeirao Preto (BRA) |
| 11 | 2007 | Libertad Sunchales (ARG) | Franca (BRA) |
| 12 | 2008 | Regatas Corrientes (ARG) | Flamengo (BRA) |
| 13 | 2009 | Flamengo Río de Janeiro (BRA) | Quimsa Santiago del Estero (ARG) |
Comments
View all
Report