04:51PM, Wed 11 March 2009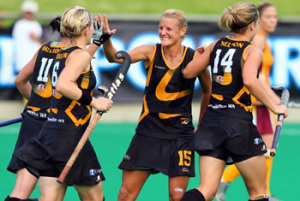 The womens' Australian Hockey League has already reached Round 5.
It kicked off for me when the WA Diamonds took on the Northern Territory Pearls in a double header at the Marrara Hockey Centre in Darwin.
I'm happy to report that we got off to a good start with a 2-0 win on Friday and a 3-0 win on Saturday.
Next up for the Diamonds were two home games against the Queensland Scorchers last weekend, where we managed to remain unbeaten for the season with a 5-1 victory and then a much tighter 3-2 win.
The Diamonds are aiming for four titles in a row this year, which will be a huge achievement if we can do it.
I put WA's recent dominance down to the fact that we play as a team. When we're behind and need to lift our game, every player steps up and contributes.
I think the biggest threat to our four-in-a-row chances will come from the NSW Arrows. They have a great list of players, a good mix of up-and-coming youngsters and well-established players.
For me personally, I'm looking to play well and put my hand up for national selection. You're never guaranteed a spot in the Australian squad, so you always have to play at your peak to be considered. Especially with the
Women's Champions Trophy being played at Sydney Olympic Park in July
.
Our two games this weekend are at the Perth Hockey Stadium against the Canberra Labor Club Strikers. We play them on Saturday 14 March at 4pm and again on Sunday at 3pm. Check out the AHL information on the
Hockey Australia website
for more details.
Hope to see you at an AHL game soon!
Kobie
Comments
View all
Report