06:05PM, Tue 10 March 2009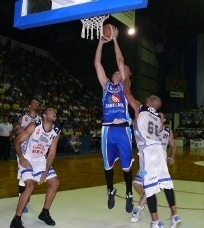 SANTIAGO DEL ESTERO (South American League for Clubs) - The final round of the South American League for Clubs begins tonight in Santiago del Estero, Argentina, where the best four teams in the preliminary round will play each other to determine the champion. The winner of the final qualifies for the 2009/2010 FIBA Americas League.
Two clubs will repeat in the final, champion Regatas Corrientes and the second place team Flamengo Río de Janeiro. The local, Quimsa, won group B while Cucuta surprised everybody by winning group A.
Regatas comes from losing to Peñarol in the National League and is eleventh in the standings with 51 points. Olympic champion Alejandro Montecchia will play in this round along with Federico Kammerichs, Ramzee Stanton and Sebastián Acosta.
Flamengo was the second place team in the 2008 edition but for this tournament they unleashed former NBA player Rafael "Baby" Araujo. They also have Marcelinho, Duda, Jefferson and Helio on offense. Flamengo is the leader of their league with a 9-1 record.
Quimsa Santiago del Estero was the only team to finish undefeated in the preliminary round by defeating Regatas, Meta La Salle and Minas Tenis Clubé. The team coached by Carlos Romano had good performances by Gabriel Mikulas, Jonathan Treise, Vanderson y Julio Mázzaro in the group stage.
Finally Cucuta-Norte won group A by beating Cocodrilos de Caracas and Flamengo. Their main players are Edgard Moreno, Norbey Aragón, Enielsen Guevara, Jermaine Walker, Monty Wilson and Eduardo Torres.
Tuesday, March 10:
20:00 Flamengo vs Regatas de Corrientes
22:00 Quimsa vs Cucuta - Norte
*Local time of Santiago del Estero.
More information: www.fibaamericas.com
Comments
View all
Report