06:03PM, Fri 27 February 2009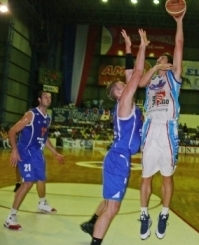 SANTIAGO DEL ESTERO (South American League for Clubs) - Quimsa Santiago del Estero and Regatas Corrientes from Argentina qualified to the finals of the South American League for Clubs after finishing in the top two places of Group B.
Quimsa finished as the only undefeated group winner with a 3-0 record after beating Minas Tenis Clubé 96-90.
The team coached by Carlos Romano started the game with a 9-3 run in the first three minutes. Minas had problems in the paint and the perimeter but Quimsa made some turnovers that were key for a 12-5 run by the visitors who took a 15-14 lead and finished up 25-23. Ricardo Probst led Minas with 8 points. Quimsa was led by Jonathan Treise with 8 points and Gabriel Mikulas 6.
Joe Shipp attacked the basket consistently at the start of the second quarter but Quimsa made some adjustments on defense and with help from the bench took a 37-29 lead with five minutes. The first half ended 48-39 in favor of Quimsa who were led by Mikulas and Treise who had 11 points each. Minas shot 3-15 from three point range and Quimsa took advantage on the other side.
At the start of the third quarter the hosts opened with a 9-0 run to have a 57-39 lead but Minas reacted led by Facundo Sucatzky and Luiz Felipe to close the score again 57-48. Quimsa recovered and won 70-58.
Minas went into the final quarter with the pressure to win by eight points or more but only got close by putting the score 80-76. Their offense wasn't consistent and the turnovers at the end were converted by Quimsa.
Gabriel Mikulas led with 22 points and Jonathan Treise had 19 for Quimsa. In a losing effort Murilo Becker netted 20 points and Joe Shipp 18.
In the first game of day 3 Regatas Corrientes crushed Meta La Salle 93-60 in order to enter the finals again.
Regatas started the game with a 15-5 run but led by John Thomas, La Salle made a 6-0 rally to finish the first quarter 15-11. Ramzee Stanton led the defending champions with 7 points.
In the second quarter Regatas started dominating close to the basket and finished at halftime up 39-24. A 9-0 run gave Regatas a 37-19 lead after a basket by Mariano Fierro. At halftime Stanton had 9 points and Durelle Brown 7.
In the second half Regatas maintained a double digit lead finishing the third quarter 66-41 and never looked back.
Durelle Brown led with 21 points and Damian Pineda 18 for Regatas who finished with a 2-1 record.
John Thomas once again led La Salle with 27 points and Albert Burditt had 11.
Quimsa and Regatas joins Flamengo Río de Janeiro (Brazil) and Cucutá-Norte (Colombia) in the finals to be played from March 10-12 in a city to be determined soon by FIBA Americas.
You can find the latest news of this and other international events on www.fibaamericas.com
Comments
View all
Report