10:18AM, Tue 24 February 2009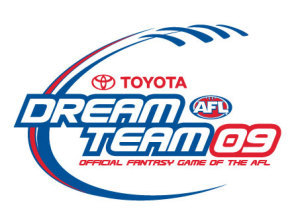 Yep, footy is back and so is Toyota AFL Dream Team – the competition that puts you in the coach's box. Whether you want to prove you can pick a squad that'll beat all comers, or just take on your mates in your own private league, Toyota AFL Dream Team is football's leading fantasy game.
When you register your team, you'll be joining the only game played and endorsed by the AFL Players Association and the AFL Coaches Association.
Start playing now!
What's new
Fresh from a tough summer on the training track, Toyota AFL Dream Team 2009 returns loaded with new features, including:
• Live scores for your team online and on your NextG mobile, keeping your closer than ever to your squad
• Embedded news feed to keep you up to date on team selection, injury news and everything happening around the league
• Streamlined team selection interface and tools
• Your own private watch-list that allows you to keep tabs on players you're considering trading for
• A personal notepad on your team page so you can write and store important info where you need it
• The world's first AFL shield logo creator, which lets you build a custom retro footy avatar for your team
Plus, Toyota AFL Dream Team's rich history will finally be recorded as past champions and high scorers are honoured on the Dream Team wall of fame.
And of course there'll be a few other surprises.
What's back
Premium Dream Team and the Eliminator all return, better than ever. The essence of Dream Team remains the same. As usual, the salary cap and trades allow you keep a good balance of stars with consistent performers – and the smokies who fly under the radar.
Enter your team into three separate leagues, and invite your friends.
What's up for grabs
The prizes on offer this year are bigger and better than ever before. Top the pack and you will ride into the sunset with your choice of a Toyota car package.
Pick from the Luke Ball and Dale Thomas-like versatility that comes with the Yaris and Corolla duo, or the Jonathan Brown toughness of the HiLux. Alternatively, chose the blistering Luke Hodge-style pace of the Aurion V6, or the all-round Matthew Pavlich-like machine: the Rav 4.
Win the Eliminator and a first prize of $2000 cash is yours.
Weekly prizes are back, and there is great news for struggling coaches – random prizes are also in the mix.
Each weekly winner will take home $1000 cash, while a random coach each week will win $500 and a Sherrin Football signed by a Toyota ambassador, valued at $100. So you could get lucky just by being in the game.
Register early and win
Sign up
before March 13 and you'll be in the running for even more great prizes. Not only will AFL legend Leigh Matthews personally help you select your Toyota AFL Dream Team, but you can win a cash prize of $1000.
There's also another early registration random draw prize of $2000!
Want to find out more?
Check out
Toyota AFL Dream Team 101
for the lowdown on football's leading fantasy game, and
start playing now!
Live the Dream!
Comments
View all
Report