05:35PM, Fri 20 February 2009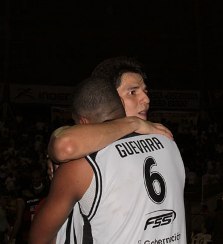 CUCUTÁ (South American League for Clubs) - Cucutá-Norte edged Flamengo Río de Janeiro 83-82 to win Group A of the South American League for Clubs. Cucuta and Flamengo both entered the final round with a 2-1 record.
The game was close from start to finish where at the end Flamengo had many opportunities to win but could not convert. A basket by Eduardo Torres gave Cucuta an 83-81 lead with 1:57 left and Flamengo only scored one point converted by Frederico Lima. Rafael "Baby" Araujo missed two attempts while Frederico Lima missed a three pointer that could have given them the win.
The first quarter was well fought and ended tied at 23 where Eduardo Torres had 8 points and Monty Wilson 6. Jefferson led Flamengo with 8 points while Marcelinho Machado had 7.
Flamengo had a good second quarter where they had a ten point lead (46-36) after two free throws by Jefferson with 1:12 left. The first half finished 46-42 as Marcelinho led with 18 points.
In the third quarter Cucuta stayed close thanks to Monty Wilson and Edgar Moreno and finished down 68-64. In the final ten minutes both teams exchanged the lead but the consistency from the free throw line by Cucuta was key for the win.
Eduardo Torres had 24 points while Edgar Moreno had 21 and Monty Wilson 19. Cucutá finished shooting 23-29 from the free throw line and 8-16 from three point range.
Marcelinho Machado netted 26 points and Jefferson 17 for the Brazilian team.
Group A standings:
1. Cucutá-Norte 2-1
2. Flamengo Río de Janeiro 2-1
3. Cocodrilos de Caracas 1-2
4. Obras Sanitarias 1-2
Group B will be played from February 24-26 in Santiago del Estero, Argentina where the participants are Quimsa, Regatas Corrientes (defending champion), La Salle (Bolivia) and Minas Tenis (Brazil). The two best teams in this group joins Flamengo and Cucuta-Norte in the final round to be played from March 10-12.
Comments
View all
Report