12:42PM, Thu 19 February 2009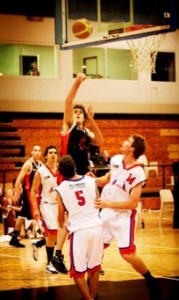 The Rockingham Flames SBL Men have moved swiftly following a strong pre-season to re-sign a number of important pieces of the puzzle in Head Coach Mark Utley's grand plan to bring a title to the 'Hot House' in 2009.
The initial members of the returning crew include reserve big man Aaron Colley, hard nosed Jarryd Griffin, mobile Brendon Della and sweet shooting Ryan Jeffrey.
Speaking on each of his returning members Head Coach Mark Utley said the following –
Aaron Colley (pictured left) – "An up and coming big man that has been on the leagues most improved players the last few years and has nice touch from the perimeter."
Jarryd Griffin – "The best rebounding guard I have seen in the SBL and a player that always sacrifices for the team to win. 'Jar' has developed his game to now be a playmaker."
Brendon Della – "A fit athletic hustle player who is capable of causing match up problems."
Ryan Jeffrey – "An up and coming shooting guard who will continue to develop his ball handling and defensive footwork to become a prominent player in this league."
Speaking on the signings Association CEO Shannon Conrad said "It's fantastic to have all four guys committed to our program for 2009. A club at this level is only as strong as their local contingent and we are very happy with the talent and potential that our locals show and what they can offer game in game out."
Coach Utley's attention now turns to confirming some marquee signings which will shape the Flames squad for 2009 so stay tuned as more announcements are to come in the following week.
For all updates from the Rockingham Flames Basketball visit their official website www.rockinghamflames.com.au
Comments
View all
Report