05:31PM, Sun 8 February 2009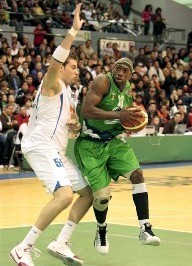 XALAPA (FIBA Americas League) - Samuel Bowie was one again the key figure for Halcones the Xalapa in the Final Four of the FIBA Americas League. Halcones dominated Minas Tenis Clube 104-84 and will play for the championship on Sunday against Universo/BRB.
Minas started the game with many mistakes on the offensive side while Halcones scored from long distance and in fast break due to the many turnovers from the Brazilian team to take a 18-10 lead. Flavio Davis, coach of Minas, called a time-out and they reacted quickly with a 10-0 run led by Ricardo Probst to take a 20-18 lead with 3:07 left. The run in the final five minutes was 20-4 so the Brazilians could finish the first quarter up 30-22.
The first quarter was almost perfect for Minas who shot 9-11 from the field (81%) including 3-3 from three point range and 9-12 from the free throw line. Ricardo Probst, Murilo Becker and Joe Shipp led with 7 points each. Gustavo Ayon led Halcones with 7 points and Victor Avila 6. Halcones shot 8-21 from the field including 3-13 from three.
In the second quarter Samuel Bowie came with two straight three pointer to tie the game at 30 with 8:49 left and Victor Avila scored another one to have a 33-30 lead and complete an 11-0 run in the first two minutes. Bowie continued to score consistently and finished with 19 points in the second quarter and Halcones had a 53-41 halftime lead.
Mariscal helped with 10 points while Minas never answered the attack. The second quarter was 31-11 in favor of Halcones thanks to their intensity on both sides.
Bowie opened the third quarter with five straight points to increase their lead 58-43 with 8:26 left and the offense continued to score to have a 82-66 lead with ten minutes left.
Minas tried to get back into the game but their offense was not consistent and the depth of Halcones was too much for the Brazilians.
Halcones was led by Bowie who scored 26 points while Victor Avila had 16, Gustavo Ayon and Dontae Truitt netted 13 each.
Soro Pinto had 18 points and Joe Shipp 17 for Minas who looks for their first win against also winless Bigua.
In the first game of the day Universo/BRB defeated Bigua 86-75 as Estevam Ferreira led with 19 points, Alex Garcia had 15 and Valtinho Silva 12 points with 10 assists.
Sunday, February 8, 2009:
16:15 Minas Tenis Clube vs Bigua
18:30 Halcones Xalapa vs Universo BRB
*Local time of Xalapa, Veracruz, Mexico.
Comments
View all
Report